Written by

Dallas Rogers, Associate Dean, School of Architecture, Design and Planning, University of Sydney
A target of 70% private and 30% public dwellings is an accepted standard for public housing renewal projects in several Australian states. This level of private ownership is said to be necessary to counter stigma and the supposed demotivating impacts of concentrated disadvantage. When we looked at the impact of applying this model to the planned Waterloo redevelopment in inner Sydney, the demographic projections were revealing.
Read more: Why the focus of stimulus plans has to be construction that puts social housing first
Our analysis shows the project would reduce the suburb's proportion of social housing dwellings from 30% to about 17%. About 30% of households in the suburb would be owner-occupiers. Private renters might rise to more than 50% of households.
Why set social mix targets?
Social mix is often proposed as an antidote to a range of presumed problems associated with public housing estates. With the need for a social housing stimulus package receiving attention, and the Victorian government announcing a A$500 million program, it's timely to revisit the mix of tenancies in estate redevelopments.
Read more: Class divide defies social mixing and keeps public housing stigma alive
State housing authorities favour a mix of public and private residential tenures when they redevelop large public housing estates. Authorities can then sell the majority of new dwellings to private owners and investors.
As Kate Shaw, Janet McCalman and Deborah Warr have explained in The Conversation, the strategy doesn't always work as promised. Drawing on extensive empirical research into mixed-tenure renewal neighbourhoods, the evidence shows simple mathematical "one size fits all" targets do not work. Decisions on the residential mix need to be sensitive to local settings and needs.
Nonetheless, an orthodoxy has emerged among some housing authorities that social housing tenants should make up 30% of households while 70% should be sold to owner-occupiers and investors.
Read more: Social mix in housing? One size doesn't fit all, as new projects show
The case of Waterloo
In Waterloo, limitations of the fixed-ratio approach relate to the likely composition of the post-renewal resident population.
The Waterloo estate site now contains about 1,900 public housing units. The renewal plan proposes retaining this number in the context of a three-fold increase in dwellings with a 70:30 private-public tenure mix. This will result in a total of about 6,500 dwellings.
At the suburb or neighbourhood level, Waterloo had 6,151 dwellings in 2016. As the table below shows, almost exactly 30% of these were let to social housing tenants.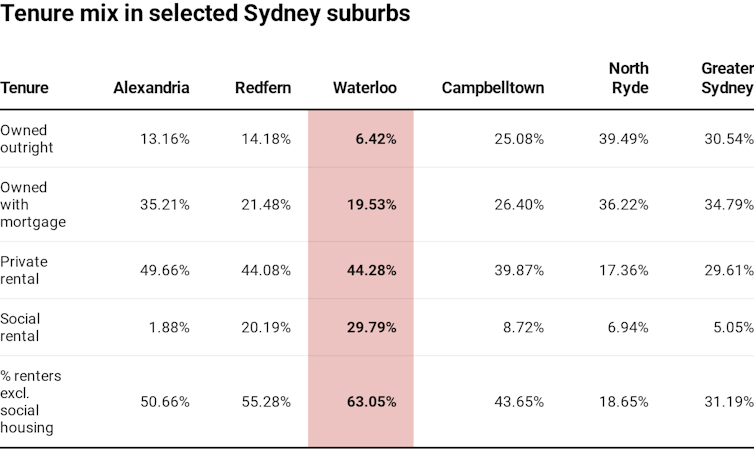 Authors: Dallas Rogers, Associate Dean, School of Architecture, Design and Planning, University of Sydney
Read more https://theconversation.com/public-housing-renewal-likely-to-drive-shift-to-private-renters-not-owners-in-sydney-133352