Written by

Greg Moran, Senior Associate, Grattan Institute
Bullet trains are back on the political agenda. As the major parties look for ways to stimulate the economy after the COVID-19 crisis, Labor is again spruiking its vision of linking Melbourne, Sydney, Canberra and Brisbane with high-speed trains similar to the Eurostar, France's TGV or Japan's Shinkansen.
In 2013 when Labor was last in government, it released a detailed feasibility study of its plan. But a Grattan Institute report released today shows bullet trains are not a good idea for Australia. Among other shortcomings, we found an east coast bullet train would not be the climate saver many think it would be.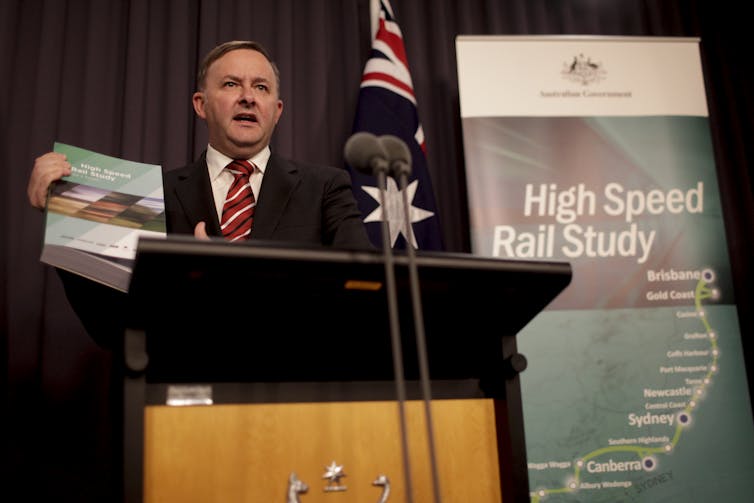 AAP/Lukas Coch
The logic seems simple enough
Building a bullet train to put a dent in our greenhouse gas emissions has been long touted. The logic seems simple – we can take a lot of planes and their carbon pollution out of the sky if we give people another way to get between our largest cities in just a few hours or less.
And this is all quite true, as the chart below shows. We estimate a bullet train's emissions per passenger-kilometre on a trip from Melbourne to Sydney would be about one-third of those of a plane. We calculated this using average fuel consumption estimates from 2018 for various types of transport, as well as the average emissions intensity of electricity generated in Australia in 2018.
Read more: Coronavirus is a 'sliding doors' moment. What we do now could change Earth's trajectory
If we use the projected emissions intensity of electricity in 2035 – the first year trains were expected to run under Labor's original plan – the fraction drops to less than one-fifth of a plane's emissions in 2018.
It should be remembered that while coaches might be the most climate-friendly way to travel long distances, they can't compete with bullet trains or planes for speed.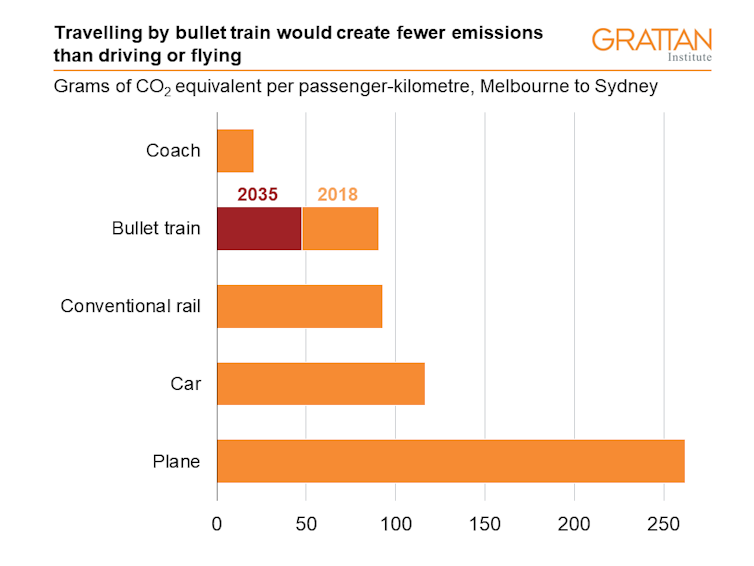 Authors: Greg Moran, Senior Associate, Grattan Institute
Read more https://theconversation.com/high-speed-rail-on-australias-east-coast-would-increase-emissions-for-up-to-36-years-138655