Written by

Deborah Hersh, Associate Professor, Speech Pathology, Edith Cowan University
Why do you lose your voice approximately 12 hours after you scream too much? If I scream a lot one day the next morning I can barely speak. However, I can speak right after I scream. Kheenav, age 11, from Glen Waverley, Victoria

Hi Kheenav, thank you for your question!
First, I'll explain a bit about your voice. Then we can look at what happens after shouting or screaming.
How does your voice work?
When you talk, sing, shout, or scream, the voice sounds you make happen because of the very fast vibration of your vocal cords.
These vocal cords are two small folds of muscle in your voice box which is in the front of your neck.
Your vocal cords make sound by vibrating many times each second.
If you gently put your fingers around your voice box and say "ahhh", you will feel your vocal cords vibrating.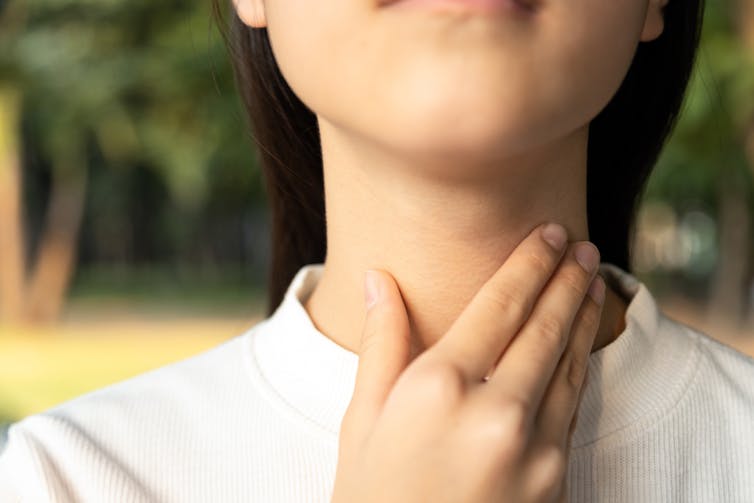 Shutterstock
If you then say "ahhh" and make your voice go up and down, you will feel your voice box go up and down.
Your voice works hard
When you make sounds, your vocal cords open and close many times each second (move apart and together again) to make the air vibrate.
The opening and closing is like putting your palms together, and then separating them but keeping the tips of your fingers touching. Each opening and closing is one vibration.
Vocal cords: the first is open, the second is closed

Authors: Deborah Hersh, Associate Professor, Speech Pathology, Edith Cowan University
Read more https://theconversation.com/curious-kids-why-might-you-wake-up-without-a-voice-132592