Written by

Michelle Grattan, Professorial Fellow, University of Canberra
Remember how last year's Easter felt bizarre because the country was in election mode? How normal that seems, now everything is surreal, with the nation "holidaying" in this peculiar, unpleasant limbo.
As we contemplate the grimness we should also remember it could be much worse. It's early days but we've dodged the horror of Italy, France, Britain, and the US. So far in Australia, the virus is being contained, the "curve" of new cases flattened.
Nevertheless, this Easter millions of Australians see little but uncertainty ahead, as they worry about their health, their jobs or lack or them, their businesses.
The economic fear inevitably remains dialled high despite a trimmed-down parliament (only 50-plus House of Representatives MPs out of 151) on Wednesday passing the government's $130 billion wage subsidy package.
Earlier in the week, Scott Morrison had received a Newspoll bounce in his approval, just as Kevin Rudd did in the global financial crisis. Bad as the GFC was, it's clear this crisis will be much more fraught to exit.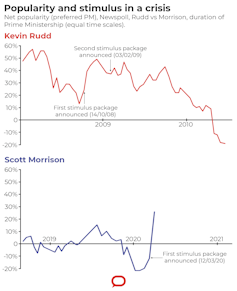 Authors: Michelle Grattan, Professorial Fellow, University of Canberra
Read more https://theconversation.com/australias-coronavirus-debate-turns-to-the-way-out-136058