Written by

Ian M. Mackay, Adjunct assistant professor, The University of Queensland
Like the other 200 or so respiratory viruses we know of, severe acute respiratory syndrome coronavirus 2 (SARS-CoV-2), the new coronavirus, infects the cells of our airways.
It causes a range of signs and symptoms, or none at all. It can spread easily from person-to-person, and can be coughed into the air and onto surfaces.
Viruses only replicate inside a living cell - outside the cell, they're on a path to either infect us, or their own destruction. How long a virus survives outside a cell varies.
Researchers found SARS-CoV-2 remains infectious in airborne droplets for at least three hours. This doesn't mean infected humans produce enough virus in a cough to infect another person, but they might.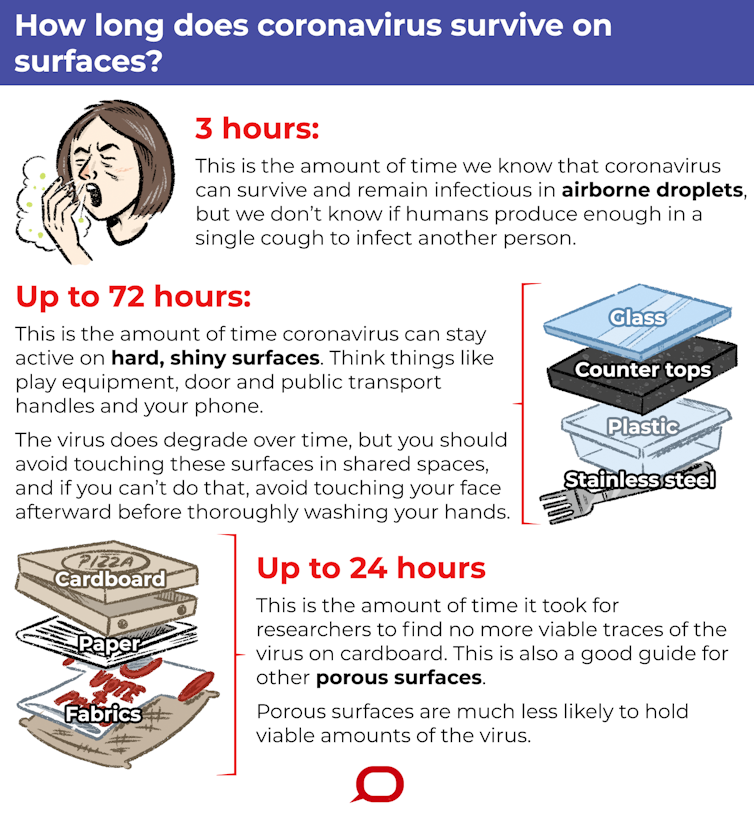 Authors: Ian M. Mackay, Adjunct assistant professor, The University of Queensland
Read more https://theconversation.com/we-know-how-long-coronavirus-survives-on-surfaces-heres-what-it-means-for-handling-money-food-and-more-134671