Written by

Camilla Nelson, Associate Professor in Media, University of Notre Dame Australia
Words can help us imagine the world more deeply. Even as we retreat into our homes in this time of crisis, words can help us reach out to each other and pile up strength.
The Stella Prize is awarded each year to celebrate Australian women's writing. This year's shortlist brings together some of the best Australian writing in any genre. They are books about courage, strength, compassion and love. And they give us something of what we need – teaching us that to be alarmed is not to be cautious or careful; that to try to bear everything on one's own is not necessarily to be strong.
These books can help us draw on our inner resources; to dig deep. Not only to find a point of calm, or, indeed, relief from boredom as the lockdown wears on – but more importantly, compassion, altruism, the capacity to cross social distances, reach out, help and support each other and our society in a time of crisis.
The Weekend by Charlotte Wood
When you read The Weekend you'll probably learn some things about yourself that you didn't know, and a few you'd rather not. This book takes a long look at women's lives and friendships as we get old, at a time in life when everything we thought we knew – about ourselves, about our loved ones – is being thrown into doubt.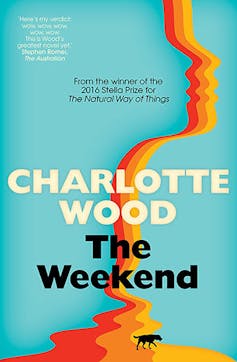 Authors: Camilla Nelson, Associate Professor in Media, University of Notre Dame Australia
Read more https://theconversation.com/stella-prize-2020-a-readers-guide-to-the-contenders-132515