Written by

Dave Drayton, Lecturer in Creative Writing, University of Technology Sydney
Why do we tell stories, and how are they crafted? In this series, we unpick the work of the writer on both page and screen.
Ryan O'Neill's recent book The Drover's Wives joins a rich corpus of Australian literary works inspired by Henry Lawson's short story, The Drover's Wife (first published in The Bulletin in 1892).
But O'Neill's approach differs from that of other authors, by offering not one reinterpretation – as in Frank Moorhouse's satirical take and Barbara Jefferis' feminist retelling, for example – but 99 different versions of the story.
His book envisages the Lawson story in various forms, including: as a tweet, a school English essay, an Amazon book review, a limerick, a computer game, a gossip column, and even a sporting commentary.
O'Neill's book is dedicated to both Henry Lawson and French novelist Raymond Queneau. The latter was a founding member of the Oulipo (Ouvroir de Littérature Potentielle), a mostly French assortment of experimental writers, mathematicians and scientists, founded in 1960.
O'Neill attempts Queneau's method of literary variations on a theme in Exercises In Style (first published in French in 1947), but with an Australian context.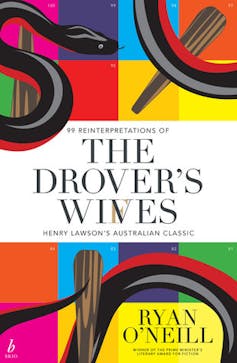 Authors: Dave Drayton, Lecturer in Creative Writing, University of Technology Sydney
Read more http://theconversation.com/inside-the-story-99-versions-of-the-same-tale-in-the-drovers-wives-112407