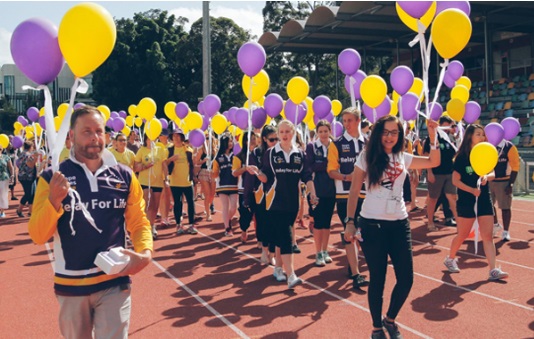 All over Australia, there are families and communities dealing with the impact of cancer. There are many things we can do to support our loved ones if they suffer not only from cancer, but from any disease. Being available to drive them to hospital appointments, assisting around the house, or even just supplying company can mean the world of a difference. Knowing that they are not alone is an incredibly important thing.
What is Relay for Life?
Relay For Life is an option for those who would like to support their fellow Australians who are suffering from cancer. Not only are you able to support your family, friends or neighbours, but people all around Australia. Furthermore, it is a great way to spread awareness, that may assist with early detection for future suffers.
Relay For Life is a community challenge that is designed to raise money in support of those suffering from cancer. This event is organised by local volunteers, and include activities that support and honour cancer survivors and their carers too. Last year, 80,000 people around Australia took part in this challenge, with millions of people around the world participating also.

How Does It Work?
The challenge is based upon the notion that cancer never sleeps, so neither will we. Participants form teams that take it in turns walking around a track for 24 hours. The event is much more than this however, as participants are involved in fundraising prior to the event. Head shaves, morning teas and trivia nights are commonplace, and a sense of community is built in anticipation. On the day, the Opening Ceremony welcomes participants and spectators alike. The Relay Committee together with inspiration speakers are heard from, and some more information about Relay For Life shared. This is when the Lap of Honour begins.
The Lap of Honour
This is where cancer survivors and and their carers are honoured by completing the first lap, accompanied by the roaring cheers of the crowd. After the celebration of the guests of honour, all participants are welcomed to the track, and the 24 hours of walking begins. Throughout the day, activities are held to further show support to the guests of honour, including a morning tea and entertainment. It is a great time to share stories, and offer words of advice and support for those currently fighting.
As the Sun Sets on Relay for Life
The Candlelight Ceremony is a time of reflection, and serves to honour those who we have lost to cancer. Messages are written to loved ones on illuminated candle bags at dusk, serving as a reminder as to why the event occurs in the first place.
As the night rolls in, the glow sticks come out. Each local relay will have a different way to keep spirits high throughout the night, so check your local page for more information. For the last lap, participants and guests of honour alike take part. Participants walk in one direction, while the survivors and carers walk the other direction. High fives are shared as they pass, and the relay comes to an end. The Closing Ceremony is the final event of the day, which aims to celebrate not only the success of the relay, but the funds raised to fight back against cancer.
To get involved in this wonderful community event, check out the Relay For Life website! You can register as a participant, volunteer, or simply make a donation. The funds raised from this event supports different aspects of cancer assistance, including: research, transportation of patients to treatment, accessibility of accomodation for patients seeking treatment, information and support services and prevention education. If you would like more information, see The Cancer Council's website, or call 13 11 20.