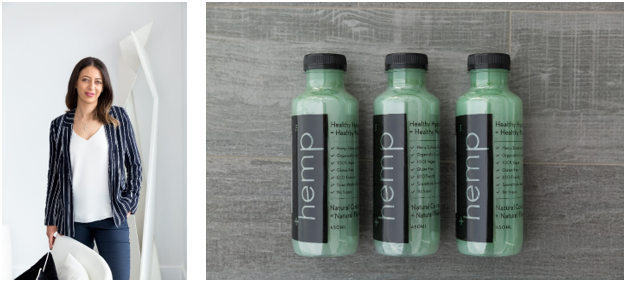 This 31-year-old entrepreneur and mum invested her own $100K and 18 months into developing Australia's most exciting, first-to-market beverage. Days after its development, it's taking the drinks industry by storm

She faced rejection from 13 beverage manufacturers, 19 distributors, seven food technologists, Facebook and Instagram. Yet that didn't stop 31-year-old mum of two Natalie Moubarak from pursuing an 18-month journey and investing her own $100,000 into launching a first-to-market beverage. Now, just days after product has been delivered, +hemp (plushemp.com.au) – Australia's first hemp water – is already stocked in 65 retailers, including selected IGA supermarkets and BP petrol stations. Natalie is on track to sell 65,000 units by Christmas.
Natalie's against-the-odds journey highlights the determination of a businessperson and the risk-taking and self-belief of an entrepreneur. She honed her tenacity in her 10-year-career as a real estate agent in the industry's most challenging sector: new developments. She learned how to face negative market feedback when, four years ago, she turned a rundown shop in Sydney's Earlwood into an organic and vegan café. Not only was Earlwood not the 'right' market for such a café, residents told her it was in the wrong street and would go under. Determined to prove them wrong, Natalie began making a profit in the café's third month, two years later selling it for a 45 per cent profit.
In 2016, Natalie began tracking the legislative journey for hemp-based foods. She wanted to be first-to-market with a high-quality natural hemp water, and personally banked on her belief that hemp would soon be legalised as a food.
Natalie knew the keys to a successful water would be high-quality Australian-grown hemp, and a natural process that would mix water with oil derived from the seed. She visited multiple hemp farms across Western Australia, Queensland, Victoria and South Australia. She spoke with hemp industry experts and eight food technologists – bringing on board two – to work out how to process hemp with water. She did market research with students. She met with manufacturers and bottlers. It would have been easier for Natalie to get the drinks made overseas – as only two Australian manufacturers were able to carry out reverse-osmosis water filtration together with aseptic technology. She carried out paid trial testing over 12 months and turned her kitchen into a lab. She trademarked the brand name. She put $100,000 of her own funds into the entire journey, including branding. Many doors closed for Natalie during this period, and friends and family told her she was risking too much money and time into a product that might not take off.
Hemp was legalised as a food in Australia in November 2017 after a major review by Food Standards Australia New Zealand. It is a strain of the cannabis plant, but contains negligible traces of tetrahydrocannabinol found in cannabis. Natalie worked hard to source a hemp oil that had nil levels of tetrahydrocannabinol.
One risk Natalie didn't take was to sell and market before she had the product in her hands. This month, in selling her first product run, Natalie cold-called distributors – many of which declined to meet with her – and more than 50 food-service venues. While Facebook and Instagram wouldn't let her advertise, her organic posts were shared rapidly and some cafes and fitness centres in Sydney, Melbourne and Queensland – and even the US – asked to stock the product.
Natalie's luck kicked in when she brought samples to a Sydney petrol station. A rep from a major beverage distributor was there and organised a meeting with his team a few days later, where they accepted +hemp on the spot. The distributor told Natalie she had one final problem left: will she have enough stock to keep up with orders! That was two weeks ago. Now, Natalie is on track to sell 65,000 bottles by Christmas – and she isn't stopping there! She has plans to release new flavours later this year and expand globally.
In a feature or Q&A, Natalie can discuss her story in more detail, the ingredients that contributed to her success, and her plans for 2019 and beyond.