Written by

Rachel McDougall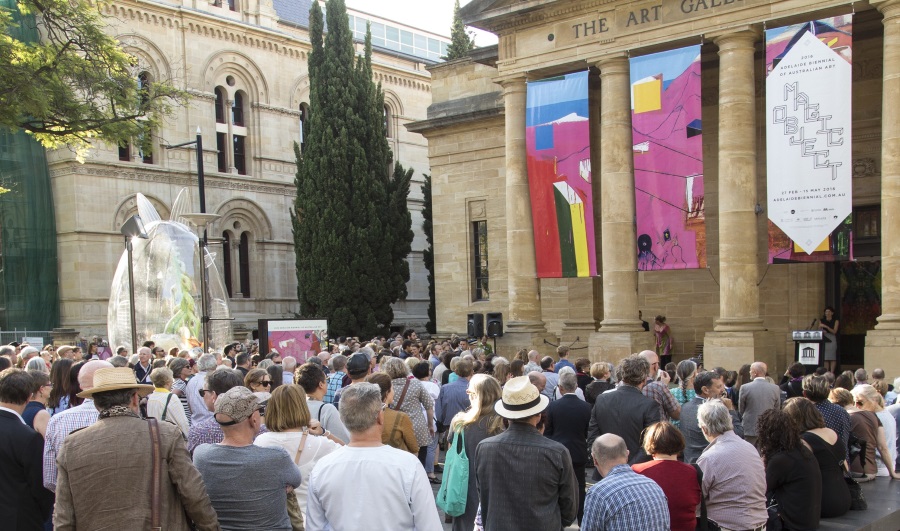 Collective giving helps to increase support by 37% for Art Gallery of South Australia's flagship contemporary art exhibition
Financial support from the Adelaide Biennial Ambassadors up 30%
The Balnaves Foundation retains its status as Principal Donor for fourth consecutive iteration.
The Art Gallery of South Australia has announced significant philanthropic growth from both the private and corporate sectors for the 2018 Adelaide Biennial of Australian Art: Divided Worlds, with financial support up 37% on the 2016 event, totalling $1.2 million.
Art Gallery of South Australia Director Nick Mitzevich said, 'It's heartening to see such strong support for the Adelaide Biennial in the lead-up to the exhibition's 30th anniversary in 2020. This ever-increasing momentum demonstrates that the Adelaide Biennial is more relevant than ever and that it plays an important role in providing Australia's contemporary artists with the opportunity and context to be ambitious and innovative.'
Long-time gallery supporter, The Balnaves Foundation, has renewed its partnership with the Adelaide Biennial, securing its position as Principal Donor for the fourth consecutive iteration.
The Balnaves Foundation Founder Neil Balnaves AO said 'The Balnaves Foundation is committed to investing in the country's creative capital and we hope our renewed partnership with Adelaide Biennial not only encourages participation and appreciation of contemporary Australian art but also instils confidence in other organisations and individuals to support Australian art.'
Confidence in the Adelaide Biennial is certainly at an all- time high, demonstrated by the expansion of the Adelaide Biennial Ambassadors program whose financial contribution is up 30% on the 2016 event. Established in 2014 by the Art Gallery of South Australia, the Biennial Ambassadors program is a donor circle that brings together a group of private individuals to have a shared impact.
The Biennial Ambassadors come from across the country and their generosity enables the Adelaide Biennial to support artists and the making of new works of art, as well as support public programs and learning to present the very best survey of Australian contemporary art.
The 2018 Adelaide Biennial of Australian Art: Divided Worlds runs from 3 March to 3 June 2018 as part of the Adelaide Festival. For further information visit adelaidebiennial.com.au. 
About the Adelaide Biennial of Australian Art
Known for its risk taking and expansive vision, the Adelaide Biennial has demonstrated a significant and sustained practice for more than a quarter of a century. Inaugurated in 1990, it is the country's longest-running survey of contemporary Australian art and an important platform for Australian artists to realise new works and projects of a scale that require an institutional context for their conception, realisation and presentation. The Adelaide Biennial of Australian Art has had a lasting impact on Australian art, on the professional reputation of artists and arts professionals, and on the state of South Australia as a wellspring for contemporary art. The 2018 iteration, titled Divided Worlds, presents work by 30 artists and collectives across four venues along Adelaide's cultural precinct, North Terrace. www.adelaidebiennial.com.au