What Is a Water Efficiency Certificate?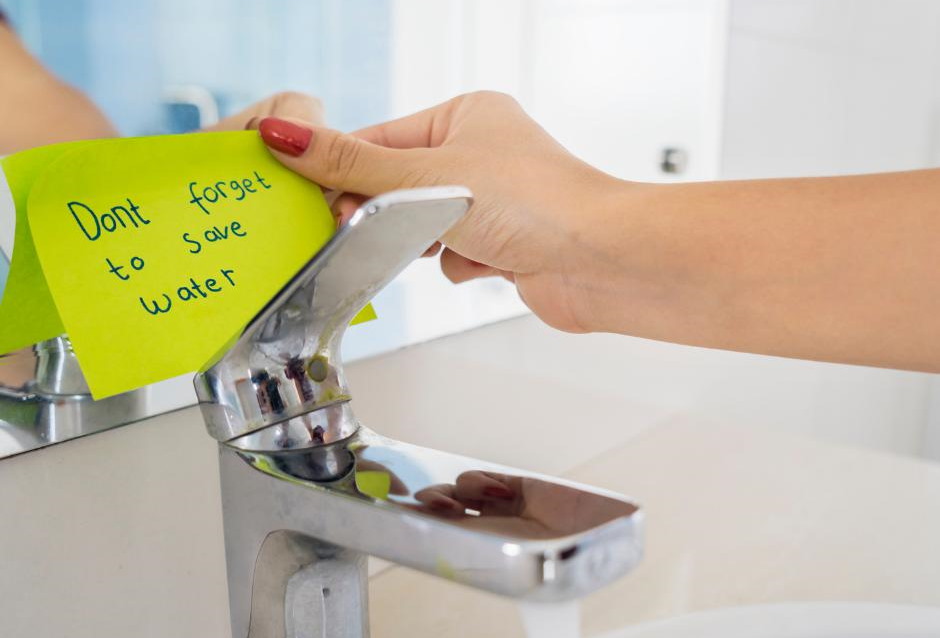 If you're a property owner or property manager, it's important that you have your water efficiency tested in order to pass the costs of water consumption on to your tenant. You need to obtain the appropriate compliance certificates prior to the start of the tenancy to avoid any possible disputes. Possibly the easiest way to do this is to get in touch with your licensed plumber and explain that you wish to obtain a Water Efficiency Certificate - in accordance with the Plumbing and Drainage Act 2002.
According to the Residential Tenancies and Rooming Accommodation Regulation 2009, one of the criteria for water charging is proven water efficiency, and this must be met prior to charging your tenants water usage charges.
The Master Plumbers Association of Queensland have implemented clear guidelines for obtaining a Water Efficiency Certificate, which means that any real estate agent, property owner, or landlord can contact a licensed plumber and request that the property be issued with a Water Compliance Certificate.
Renters: Before a renter signs any rental agreement they should understand what they're legally required to pay for and what they're not. The Residential Tenancies Authority states that tenants can only be charged costs for excess water consumption if there is a specific tenancy agreement in place stating that the tenant must pay for water consumption. In addition, the rental premises must be water efficient and individually metered.
Minimum Requirements for a Water Efficient Property
A rental property can be considered water efficient - allowing a landlord to pass on water consumption charges - when the following standards are met -
The tenancy agreement states that the tenant is liable to pay their own water consumption costs.

The rental property concerned is declared water efficient and certified with a Water Efficiency Certificate.

The rental property is individually metered, allowing civic authorities to read the meter and issue an account.
Note that the property owner is liable for all fixed charges and must not charge the tenant more than what's billed on the statement. The landlord will receive and pay the full amount of the water bill: tenants will then receive either a copy of the water bill or evidence showing water consumption, verifying the amount charged by the landlord.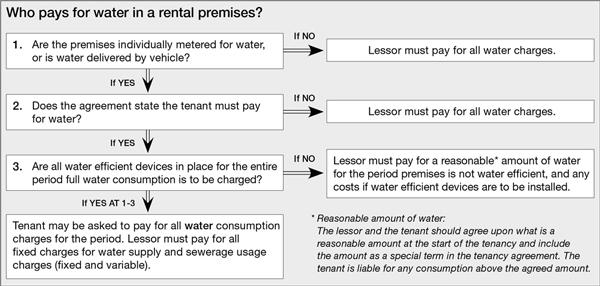 Image: https://www.rta.qld.gov.au/forms-resources/fact-sheets/general-tenancy-fact-sheets/water-charging-fact-sheet
How Does a Property Owner/Landlord Prove Water Efficiency?
If you're a landlord, property owner, or property manager, you need to demonstrate that your property is water efficient by providing copies of the following documents –
Instruction manuals or warranties for taps and shower heads.

Receipts for the purchase of plumbing fixtures.

Plumbing reports, including Certification of Compliance.

Packaging photographs showing items purchased for upgrades.
Upgrading Your Rental Property?
You'll need to contact a licensed plumber if you've decided to upgrade your rental property in order to obtain a Water Efficiency Certificate. Working in conjunction with your licensed plumber, and with that certification in hand, you'll then be able to pass on water consumption costs to your tenants.
Steps Required to Obtain a Water Efficiency Certificate Include –
Tapware and outlets to be upgraded to prevent leaks.

Aerators to be installed to restrict water flow.

Flow restrictors to be installed behind tap spouts, or

Flow restrictors to be installed directly into the tap.
How Rental Properties Satisfy Water Efficiency Requirements
As per the Queensland Residential Tenancies and Rooming Accommodation Regulations 2009, the following conditions must be met in order for a rental property to obtain a Water Efficiency Certificate.
There must be an individual meter dedicated to the rental premises, or bulk water must be delivered by a water delivery company.

There must be a maximum flow of 9 litres per minute from showerheads.

Internal cold water taps, including single mixer taps but excluding taps for appliances and bathtubs, must deliver a maximum of 9 liters water per minute.

Toilets must be dual flush and not exceed 3.5 liters half flushed and 6.5 liters fully flushed. Maximum volume of average flush must be 4 liters for 4 x half flushes and 1 x full flush.
Please note that tenants will not be directly billed from the water supply authority. As mentioned above, the property owner/manager will receive the water bill which should be paid in full. Copies of that bill can then be passed to tenants together with a copy of the water meter reading to enable tenants to verify the amount charged.
Also note that tenants are not liable to pay for sewerage fixed access charges or usage charges.
Water Efficiency Certificate Guidelines
As per the Certificate, there are specific guidelines that must be met for plumbing, inspection, and attaining the Water Efficiency Certificate.
Each stage of the plumbing work must be documented and inspected, and should that information not be available, the work should be inspected by a licensed plumber, or alternatively, records should be searched.
Dates of importance include –
Installation date of plumbing and drainage under the floor slab;

Installation date of plumbing and drainage outside the building below ground level;

Connection date of plumbing and drainage inside the building; and

Completion date of plumbing and drainage work.
If a plumbing inspector has not inspected the above work, the certificate contains a statement that covers this.
As per the Plumbing and Drainage Act 2002, Section 143, a detailed plan of work to be completed should then be sent to your Local Government. This documentation, together with other information on your property, will be kept on file by the Local Government.
Considering Renting out Your Property?
If you're planning on renting out a property, we strongly urge you to consult a licensed plumber in order to determine the necessary requirements to ensure your property conforms to the standards required for a Water Efficiency Certificate. This certificate will be required if you wish to pass water consumption charges on to your tenants.
Most licensed and professional plumbing companies are qualified to take care of these requirements in order to have the Water Efficiency Certificate issued for your rental property. With this certificate in hand, plus a tenancy agreement that includes water costs being passed on to the tenant, you can now proceed with renting out your property.
Read more: https://refinedplumbingsunshinecoast.com.au/a-guide-to-water-efficiency-certificates-in-queensland/