Written by NewsServices.com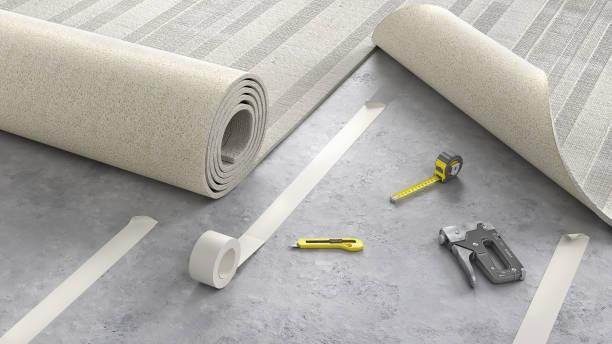 Carpets are the go-to option for floor coverings in homes, and sometimes, it demands more attention than ever. Our Fix-It Guide on carpet repair Melbourne provides you with details about how each carpet works, what could go wrong with your carpet, how to identify issues with the carpet, and the tools to fix it. It has detailed instructions for removing gum for carpets, patching carpets, repairing seams and tears in your carpet. Continue reading and learn how to repair carpets like a professional carpet restoration services provider.


How Do Carpets Work?


Carpets are floor covering made with felted or heavy woven fabric. They are stretched over a subfloor and fixed at the edges of the room using tack strips. If the room is greater than 12 feet in dimensions, they need a seam to connect two or more carpet pieces. 
The carpet flooring mostly has a pad under it to ensure a softer texture or, in some cases, protect the carpet's back from moisture. 
Wool, Nylon, Polyester Olefin, Polyester, Acrylic, or a blend of two or more of these materials are the most common fabrics for carpets. Frequently used materials for carpet pads are Polyurethane foam, bonded Polyurethane, rubber, and natural or synthetic fibres. They are graded based on their density or weight. The carpet materials are often treated with a stain fighter to ensure lesser absorption of staining liquids.
Where Can You Go Wrong with Carpets?
Carpets are constantly underfoot, and they often withstand food spills, pet damage, stains, and in some cases, burns. The seams between carpet pieces demand attention as they are always at the risk of separation and need proper fixes. Thus, it is advisable to hire a professional carpet restoration services provider for carpet repair and carpet stretching.
Identifying Problems and Easy Fixes for Carpets
First and foremost, take ample care of your carpets, but in case of accidents, keep an eye out for the following problems and their easy fixes:
Chewing gums: You can use ice to get rid of the chewing gum stuck in your carpet.
Spills or Stains: Carpets are often prone to food spills, stains from pet accidents, and other reasons. You can easily remove the stains with one of the new oxygen cleaners. All you have to do is buy the bottle and follow the instructions on the label. There are good pet stain removers in the market too. Further, if you are finding it challenging, hire a professional carpet cleaning and carpet repair service Melbourne technician.
Flattened pile: Use a metal pet brush to lift the nap.
Loose loops shag or Berber carpets: You can cut them off carefully or reinstate them into the pad with awls. 
Burns: Snip off the tops of the burnt fibres with cuticle scissors, and your carpet is as good as new. 
In case, a patch in your carpet cannot be cleaned, make a patch from the leftovers from installation or from a closet corner. 
Professional carpet repair service Melbourne technicians suggest repairing seam tears or separations with adhesive or stitches. 
Go-to Tools for Carpet Fixes
Fixing or cleaning a carpet doesn't need fancy tools, you can easily use basic cleaning and repair equipment to restore you carpeting like a professional carpet restoration services provider. For example:
Dry-cleaning fluid

Vacuum cleaner

Mild detergent

Spatula

Ice

Cleaning rags

Carpet patch tool

Scissors

Carpet cutter

Hammer

Nails or tacks

Latex seam adhesive

Pliers

Monofilament thread (clear fishing line)

Upholstery needle

Double-sided tape
Steps to remove gum from a carpet
Remove as much gum as you can using a spatula or a similar object. Vacuum the carpet to remove any loose particles.

Rub a bag filled with ice over the leftover gum until it is frozen.

Use a spatula to scrape the frozen gum.

Carefully apply a small amount of dry-cleaning solvent to remove any remaining traces of chewing gum. 

Blot the affected area with a solution of 1 cup water and 1/4tsp. of mild detergent.

Rinse the spot thoroughly and avoid soaking it.

If required, carpet restretching Melbourne, and repair technicians advise using a pair of scissors to trim out the pile that has gum on it.
Patch a larger carpet area:
Cover the damaged area using a leftover carpet piece.

Use a nail or tack to fix the piece to the existing carpeting. Nail it around the edge of the damaged area so that the carpet maintains its tension when you cut the damaged section.

Use the patch to cut through the damaged carpet.

Extract the damaged area and install double-side seam tape on the padding around the hole or the subfloor.

Position the new piece and press it firmly onto the tape.

Allow it to dry.

Remove the nail and tacks to release the tension.
Repairing a frayed carpet seam:
Pull the sides of the carpeting until they meet.

Put temporary nails or tacks on either side of the rip.

Use a lightweight monofilament thread and a curved upholstery needle to mend the flooring. If required, use needle-nose pliers to pull the needle through the carpet backing.

Once you have closed the tear, secure the seam with a final stitch.
If your carpet is severely damaged, hiring a professional carpet repair service Melbourne technician would be the best choice. They are trained and expert in carpet stretching, carpet patch repair and other methods. Get in touch with professional for best results.