Written by

Jessica McInerney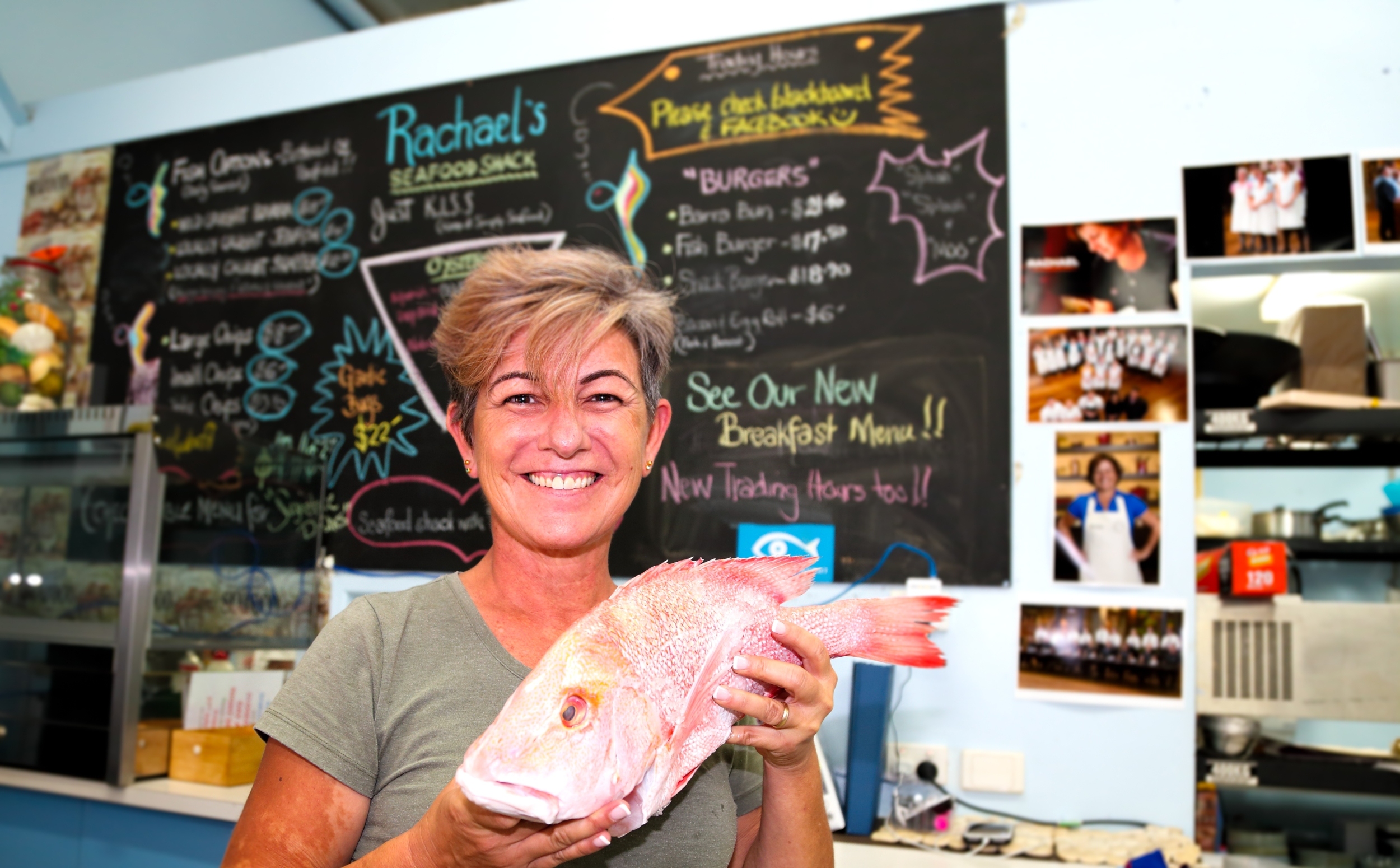 Did you know you can be fined up to $20,000 if you're not CoOL in the Northern Territory? In 2008, the NT introduced Country of Origin Labelling (CoOL) on menus for all seafood sold in the foodservice industry. Meaning, when people dine out they know if their seafood is Australian or imported. Just the same as when buying fresh fish.
"When you buy fresh fish anywhere around Australia, by law, it has to be labelled with its country of origin," Seafood Industry Australia (SIA) CEO Jane Lovell said.  
"But, unless you're in the NT, when you go out to dine there is no obligation to label where the seafood you are about to eat comes from."
Former MasterChef star and seafood restaurant owner Rachael "Queen of Seafood" Ciesiolka said the the mandatory labelling laws in the NT contributed to her restaurant's success.
"When I opened Rachael's Shack it was only meant to be a two-month pop-up; now, I'm entering my fourth year of trade," she said.
"I really promote our use of only local, Aussie seafood. It's the best. People appreciate the efforts I go to and my philosophy of 'Boat to Plate'. Not only can I tell them where their fish has been caught, but which boat it's been caught on too.
"I understand that some people could see origin labelling as another thing they have to do, but it really gives you a great way to promote your business.
"People look to me as an expert and that keeps them coming back and recommending me time and time again."
In July this year mandatory CoOL laws came into effect in the retail sector across the country. These laws provide consumers with clear information on where their food comes from and gives Australia's aquatic-farmers a fighting chance against cheaper imports.
"The current CoOL laws allow customers to make informed purchasing decisions; but retail is only half the story," Ms Lovell said.
"The new laws don't apply to food sold in places like restaurants, cafes, pubs, clubs and fish and chip shops. SIA want to see these labelling laws extended to foodservice.

"What we can't understand is what the difference is – the government believes consumers have a right to know where their seafood comes in retail – why not when they are eating out?"

Australians love their seafood and next to freshness, SIA says country of origin is the second most influential factor for a consumer choosing which seafood they buy.

"Twenty years ago almost all the seafood Australians ate was Australian seafood, and most assume it still is," Ms Lovell said.
"But, with 70 per cent of the seafood consumed in Australia imported, having this sort of information available to consumers in foodservice is critical."
Surveys found the cost of CoOL compliance was between $100 and $500 per annum, with any supply changes factored into menu reprints. However, NT foodservice providers said that while there was initial antagonism amongst some owners at the prospect of additional compliance responsibilities, such concerns fell away when they realised CoOL provided an opportunity to actively market seafood on their menus.
"The labelling is really good and definitely helps my business a lot," Selvam Kandasamy owner and chef of Saffrron restaurant in Parap, NT said.
"Our use of Australian seafood is our highlight. We are proud of it and we always tell people.
"Restaurants are reprinting their menus all the time. They are adding if things are gluten free, dairy free or vegetarian, so why can't they include where the seafood is from?"
Mr Kandasamy said the introduction of CoOL requirements in foodservice sector across Australia would provided a level playing field for both local and imported product.
"I know foodservice owners are concerned about margins, but if everybody comes on board and labels their seafood's origin then it doesn't make a difference," he said.
"The problem is actually when you use and label your seafood as Australian and it's more expensive, but another shop uses imported seafood, doesn't label it and it's cheaper. If you're eating seafood at a restaurant in Australia most people think it's going to be from here, but I've worked in many restaurants and it's not.
"If people say our seafood dishes are expensive, then we tell them it's all Australian seafood and that says everything. Nobody has ever complained about it or not ordered it."
Ms Ciesiolka agreed and said diners have become much more savvy in recent years and are actively seeking restaurants that use local and Australian produce.
"Across the country, people are searching out venues, such as myself, who use and label their seafood as Australia," Ms Ciesiolka said.
"They've told me are sick of being mislead about the origin of their seafood and having to hunt around to find somewhere that sells local or Australian seafood.
"I feel all establishments will have to be adaptable to change and evaluate the opinions of what the customer wants with regards to menu transparency.
"The customer now has the upper hand at all times when it comes to their dining experience and their wallets. They are able to research as they walk with a computer and camera in their hands, and they have a bigger voice with their experience with the use of social media."
SIA said an equal playing field would not be difficult for the foodservice industry to implement as CoOL is mandated up to the back door of restaurants.
"Right now, for food safety purposes, the supply chain of seafood is known in foodservice all the way to the cool-room door. However, the information is sadly often not passed on to the consumer," Ms Lovell said.
"SIA want to see CoOL in restaurants, clubs and cafes so consumers can make informed purchasing decisions in both the retail and foodservice sectors.
"CoOL allows consumers complete transparency of the supply chain of their seafood.
"What we'd like to see is Australian seafood identified on menus, simple as that. At a minimum we'd like to see something like Australian Barramundi, but businesses can be as specific as they want. For imported seafood a simple 'i' to denote it's imported with a clear explanation of what it means printed somewhere on the menu."
Megna Murali owner of Start Your Food Business consultancy agrees with Ms Lovell and said Australian produce is seen around the world as being superior in quality and less likely to be contaminated due to our high standards of food safety.
"Using locally grown or produced products signals to customers that they can trust you and your products to be safe and of the highest quality available," she said.

"Buying local ingredients and products that use local ingredients supports the growers and producers in Australia, which in turn contributes to the economy and helps small businesses to continue offering value and quality to the market."