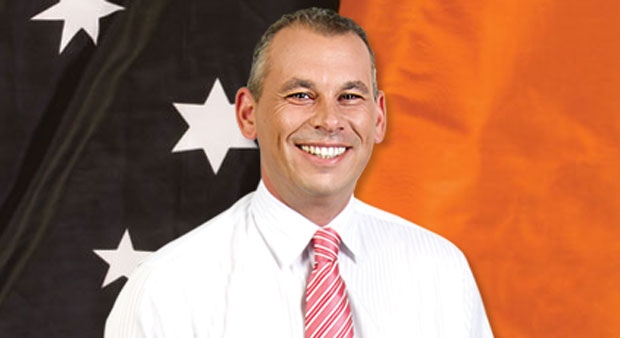 Chief Minister Adam Giles has called on NT Labor to consider the national interest and abandon its unaffordable policy of 50 per cent renewables by 2030.
Marking the commencement of a $75 million construction project at Owen Springs Power Station near Alice Springs, Mr Giles said there should be a bipartisan approach to developing the Northern Territory's economy and guaranteeing Australia's energy security.
Territory Generation's expansion of Owen Springs Power Station will create an estimated 49 direct full-time jobs during construction and will increase the reliability and efficiency of power supply.
The expansion includes the installation of 10 gas engines and all associated mechanical, electrical and civil works.
"When commissioned in December 2017, the upgraded power station will put further downward pressure on electricity prices by reducing fuel consumption, maintenance and operating costs," Mr Giles said.
"These efficiencies should see wholesale electricity prices in Alice Springs reduce by around 15-20 per cent, which is great news for Central Australian businesses and households.
"This means Alice Springs residents will have greater confidence in the reliability of their power supply."
Mr Giles said it was disappointing that Labor has walked away from its previous support of the gas industry, which has contributed to Australia's emerging energy crisis.
Former Labor Treasurer, Delia Lawrie, told Parliament on August 8, 2011:
"If you look at the next five years, one billion dollars is expected to be spent on gas exploration ... we are positioning Darwin and the Territory as the northern resources hub for the oil and gas industry."
Mr Giles said Labor had wooed energy explorers to the Territory, then cut them loose, which had damaged the Territory's reputation as a good place to invest and do business.
He said Labor's policy to shut down the gas industry had already cost jobs in the exploration sector and would slash future revenue from royalties if Labor is elected.
"Labor has sold out workers to buy Green preferences," he said.
"Modelling by Territory Generation shows it would cost between $1.5 billion and $2 billion to build a solar PV power station with enough storage capacity to supply electricity to Alice Springs for a week when the sun isn't shining.
"Retail electricity prices would likely rise more than 400 per cent under Labor's policy."
Mr Giles said the Country Liberals support renewables as part of the Northern Territory's energy mix, but gas is critical to ensure a cost effective and reliable base load of supply.
"The ageing Ron Goodin Power Station in Alice Springs will be retired when the Owen Springs upgrade is completed and this will reduce carbon emissions by 15 per cent," he said.
"As part of the Owen Springs expansion, Territory Generation is investing $2.5 million in the latest technology to support the integration of solar power in Alice Springs."
Mr Giles welcomed the 49 local jobs being created during the Owen Springs upgrade.
"This is one of the biggest local investments in infrastructure for some years and provides a boost for the Alice Springs economy," he said.
"This project would not have gone ahead under Labor."