Written by

NewsServices.com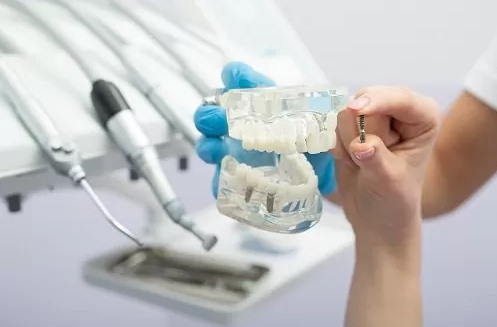 There's nothing quite like the shock of having a tooth knocked out as an adult. It's a real shock, and when you're in that state it isn't always easy to remember what it is that you're supposed to do. In some cases, the tooth can be reattached. In others, you may need to look at dental work to get an artificial replacement. If you find yourself in a situation where your tooth has been knocked out or has fallen out, here are the steps that you should take.
If You Can Find The Tooth, Don't Lose It
Of course, this is not always an option, but if you can find the tooth, the first thing you should do is pick it up by the crown and avoid touching the root. If it's dirty, you should lick it clean or rinse it very quickly in cold water. You want to keep the tooth from dying, so once it's clean try to put it back in. Don't force it, however. If it won't go, put it in milk or spit into a container. Then head straight to an emergency dentist to see if it can be reattached.
If The Tooth Can't Be Reattached, Consider A Dental Implant
There are a few different options available if you need to replace your missing tooth. Some people opt for bridges, dentures or space maintainers, but these options will require replacement after a few years. Your jawbone will change shape over the years, and a cheap or poorly fitted denture will quickly begin to feel uncomfortable. A dental bridge will cause similar issues as they can give you a slightly unnatural feel to your mouth, and the dentist will have to shave down healthy teeth to make room for it.

A dental implant is a permanent solution that prevents bone loss and helps to preserve the remaining teeth. The post is placed by the jawbone and simulates the root, and the crown gives the tooth a natural look. If you're looking for dental implants in Brisbane, Pure Dentistry gives honest advice and prioritises patient care.
Why Else Would My Tooth Fall Out?
Now, we've come this far on the assumption that the tooth has fallen out through injury. But there are plenty of other reasons why an adult may suffer tooth loss. First and foremost is bad oral hygiene. Tooth decay is one of the main reasons why teeth will come loose and fall out, which is why it's so important to make sure that you take care of your dental hygiene and visit your dentist regularly.
However, there are other reasons. High blood pressure, rheumatoid arthritis and diabetes have all been known to cause tooth loss. Smoking is another major cause, as is oral cancer. Teeth grinding can cause your teeth to come loose, but the most important thing to remember is that if you lose a tooth, it is very important to contact an emergency dentist as soon as possible.