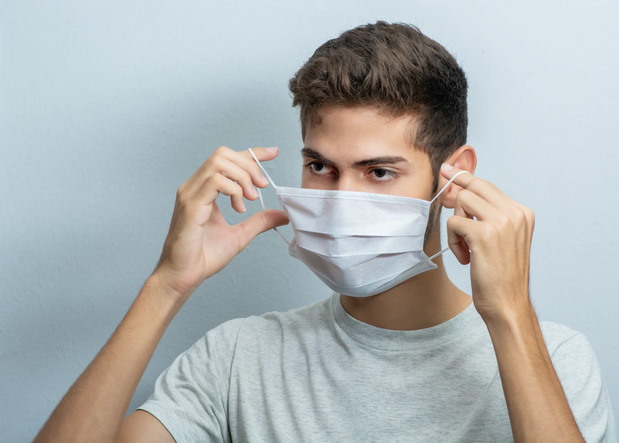 After a year in the COVID-19 pandemic, the situation has worsened– there is a new virus strain discovered lately. Thus, the safety precautions to reduce the coronavirus' spread and contamination are still practiced, even stricter than before.
Since the "new normal" when people go out for some errands, social distancing and masks are necessary. The CDC and the government always remind the people to follow the safety practices. However, the use of face masks or coverings is not applicable for children under two years old, those who have trouble breathing or unable to remove masks without assistance. 
If you do not belong to the exception, you need to have a face-covering– it can be an N95 respirator, surgical masks, or cloth masks. Whichever covering you will use, it should meet the CDC requirements to ensure you are using a safe mask:
Perfect and comfortable fit on the side of your face.

Secure the mask with ear loops or ties.

Multiple layers of fabric.

Allows breathing and no restrictions.

You can safely launder and dry the mask without damage or change to shape.

When do I have to use my face mask?
Always use your face mask whenever you are in public. You do not only protect yourself from doing so but the public as well. Although it is not necessary to wear one when you are outside by yourself, without others around you, some places mandate to wear one whenever in a public place– even without other people around. 
You have to use your face mask when:
Heading out for groceries.

Riding on public transportation.

Going for a doctor's appointment.

At work, if you are an essential employee.
If you are using a cloth or fabric mask, it is best to have more than two. Keep a fresh and clean mask while you are washing the used ones. Even though you will be at home more often than before, you need to consider your schedules, there will always be a time when you have to go out.
When you are out, keep your mask on. Remove it only when you are inside your car on your way to your destination or on the way home. Once you are home, it is best to put it in the laundry basket or launder it immediately. 
When you take off your mask, ensure that you are doing these safety practices:
Wash hands thoroughly with water and soap. After washing, sanitize your hands with hand sanitizers with at least 60% alcohol.

Grab the mask by the ear loop. If you are using tied masks, unfasten the bottom tie first before the top tie.

Do not touch the mask or your face when removing it. Immediately fold the mask and put them in the laundry.

Sanitize your hands again.
Give the cloth masks the same level of care as the regular laundry. Sanitize before and after meeting your friends or loved ones, or by merely going to the groceries.

How often should I clean my face mask?
According to CDC, there aren't any rules regarding how often you should wash face masks. Some face masks, such as surgical masks and N95 respirators, have to be disposed of after use. Thus, the frequency depends on your usage.

How to Wash Cloth Face Masks?
Always consider having an extra cloth mask with you. If your current mask becomes dirty while you are in public, you can easily replace it with your extra.
Store cloth face mask
There are two ways you can store your face mask– inside a plastic bag or paper bag. 
Plastic bag:

Cloth masks are prone to be wet or soiled due to saliva, sweat, or make-ups. If your mask is moist, it becomes less effective and makes it hard to breathe. Thus, place it in a sealed plastic bag until laundry. Ensure you wash the mask as soon as possible to prevent molds. 
Paper bag:

If you wish to store your cloth mask or mask and reuse it later, you can keep it inside a paper bag. Take off your mask correctly and wash your hands. Paper bags are convenient in between uses because it is dry and breathable. When you reuse your face mask, make sure that you are using the same side.
Whenever you store your mask for laundry or for reusing, always sanitize your hands. The CDC has laid out guidelines for the general public who wishes to clean their cloth and fabric masks.

Washing Machine
If you are used to doing laundry at a commercial laundry shop, you can include your clothes or fabric masks in your regular laundry. You should laundry your load at the warmest appropriate setting and with regular laundry detergent.
When drying, let your mask dry entirely and on the highest heat setting that's appropriate for your clothes. 

Wash by Hand
If you do not want to head out to the laundromat, you can call your local laundry shop and have their laundry pickup and delivery service. However, if you are more comfortable washing it by yourself, do these:
Check the wash label of your cloth mask. If it is viable for disinfection and bleach is recommended, use bleach that only contains 5% to 8% sodium hypochlorite.

Create a bleach solution – 5 tbs. of bleach per 1 gallon of water or 4 tsp. of bleach per quart of water.

Soak your mask in the solution for 5 minutes.

Discard the solution, rinse the mask with cold water.

Let it dry completely.
You can see several cleaning methods around the Internet. Some even suggest sanitizing face mask in the oven, boiling water, or microwave– do not. The CDC does not recommend these as they are not an effective method. Only washing and drying your face mask is the safest and effective method.
Always ensure you are doing the best practices when wearing or washing your mask. It's the only thing, aside from social distancing, that protects you from the virus.