Written by

NewsServices.com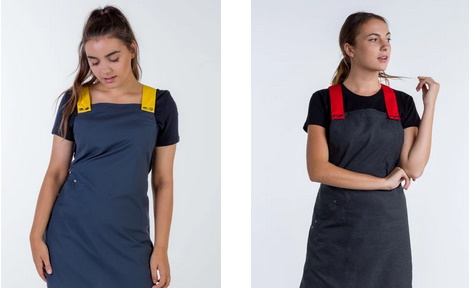 Staff attire affects the impression of an institution to a great extent. The apparel of the staff interprets their personality and indicates the environment they belong to. Likewise, the choice of a chef's uniform makes the first impression of the elegance of a restaurant. Therefore, the attire of a chef should be formal and decent to make a positive impact. Chef wear has undergone a radical change in colour and design over the last decade. A remarkable variety in texture, style, and design of the chef clothing has added an extra glamour to their uniforms.
Modern chef uniforms meet three vital conditions: decency, smartness, and comfort to suit their functional, practical, and versatile needs. A chef renders mainly three services: kitchen management, preparing food, and maintaining hygiene and cleanliness. Modern trends of chef uniforms, particularly jackets, pants, and hats, conform to their practical purpose and individual style.
The More Modern, the More Inclusive
Have you recently met a chef wearing a uniform of stylish design and gorgeous look? The days of chef's whites are gone! The traditional unisex sizing chef uniforms were stereotype and obsolete due to their orthodox design and ordinary look. Modern chefs are fashionable enough to present themselves smartly. Evolution in fashion designing, artistic sense, and technology has brought an aesthetic touch to chef clothing.
Innovative Costumes Muster Up the Spirit
The owners of elegant and fancy restaurants have become sensible in the selection of uniforms for their chefs. They apparel their chefs with designer clothes that serve the professional purpose of looking elegant and the practical purpose of keeping safe. This modern outlook on chef uniforms makes the difference. The chefs look pretty confident with these befitting, classy uniforms. They also feel comfortable with these uniforms made for each staff individually for working a long time in the stuffy kitchen room.
Classy Outfit Blends Professionalism and Comfort
Staff render the best service when they feel comfortable and secure. Trendy chef uniform of the 21st century ensures both comfort and safety. Cotton wears have taken the place of the traditional polyester outfits that aggravate the heat of the ovens. 100% cotton-oriented uniforms rather keep the chefs safe from unwanted accidents from fire. Apart from the safety, they also feel comfortable wearing the new outfit befitting for their size. Now for professionalism, appearance speaks of your personality. Modern chef wear makes them look elegant, and it is essential to impress the customers.
Chef Clothing Matters for Hygiene and Safety of Food
Make your choice between a chef dressed in a white cloak and a large white hat and another adorned with a stylish, befitting jacket and a cozy hat. You must appreciate the latter one not only for the appearance but also for neatness and cleanliness. Elite customers often report that the conventional loose chef uniforms are responsible for food pollution and the unhygienic atmosphere of a restaurant. They are often too critical about the shabby and greasy clothes, which are threatening food safety. Innovative chef wear of the new era will give you a homely feel in the restaurant foods.
A chef uniform consists of a chef jacket, chef pants, a chef apron, a chef hat, chef shoes, and a chef neckerchief. Significant changes have taken place in each item and made it more delicate, colorful, and varied. A comparative study may give you a clear conception regarding the changes and reformations in every item of chef outfits.
Novelty in Chef Jackets Serves Practically!
A chef jacket/ a chef coat is an essential component of a chef uniform for its multi-purpose, practical functionalities. The traditional double front white jacket serves the purpose of reversing the front if spoilt by any spilled liquid. Apart from the symbol of purity and cleanliness, the white colour is also significant for absorbing the external heat. But, keeping pace with the fast and developed technology, club mentality has occupied the place of conventional thought. Instead of a long-sleeved stereotype design, modern chef jackets/ coats are available in a wide variety of styles such as:
Executive chef jacket

Cool vent chef jacket

Lightweight chef jacket

Short sleeve chef jacket

Contemporary chef jacket

Denim chef jacket

Tailored zipper chef jacket

Modern tunic chef jacket
Modern chefs did not confine their taste to white colour alone. At present, solid black, dark-grey, off-white, and fanciful colours in the jackets are more fashionable and charming. Designer quality and perfect colour choice have ensured comfort to the users and satisfaction to the viewers. In practical use, short sleeve jackets are more feasible for moving the arms. Again, long sleeves often come in contact with the food, which is unexpected. Short sleeves are safe in this regard.
As for the double front, the modern trend also follows this style with a tiny alternation. The tailored zipper system has replaced the traditional stud panels to save time in need. Many new features of chef wear are more for the comfort and beauty of the chef than for any practical purpose.
Simplicity Interprets Modernity
The purposes of wearing a chef hat are covering the hair to prevent falling into food, showing the rank of a chef, and looking smart. Modern chefs do not like the traditional white Blanche of larger size with so many Pleats. They like to use simpler and shorter hats (9 to 12 inches) of elegant designs. Modern chefs use chef hats mainly for cleanliness and absorbing sweat. Aussie chef box hats and disposable chef hats are more favorable for their exquisite shapes and texture. Fanciful chef hats are also one of the recent additions to modern chef clothing. Most chefs at present like to wear black chef pants to match their uniforms.
Change is the nature of life and lifestyles. The root cause of all changes related to life is to ensure comfort and happiness. Therefore, the changes in chef uniforms have also made the chef job smoother and easier than before. The aesthetic changes in their outfits help them appear elegant. This positive impact on a chef makes him more confident and more practical in life.