Written by

Tess Sanders Lazarus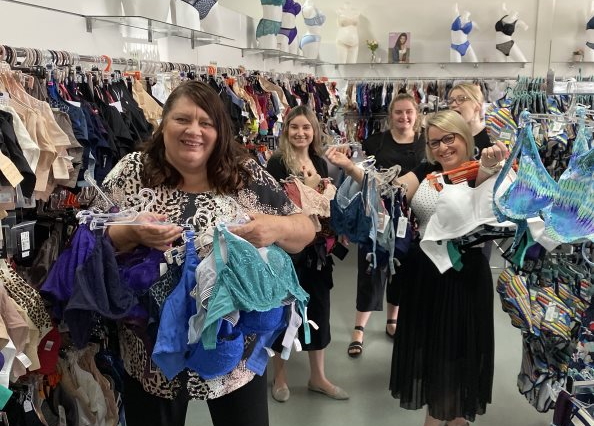 According to Karen Edbrooke, founder of Big Girls Don't Cry Anymore (Big Girls), sales in lingerie during isolation have increased by 50 percent online.
"We are gathering as much information as we can from our customers and it seems women can't do without their wine, bras and Netflix during isolation," Karen said.
"Women are spending more time on the internet and they are really wanting to indulge themselves while in lock down.  Pretty, patterned and luxurious lingerie is selling really well.  Our sales have increased so much that we have had to bring on board seven new staff to help us cope with our internet orders."
Big Girls is one of the country's leading online retailers of lingerie and swimwear for women of all sizes.   Founded by Karen Edbrooke 28 years ago after she sustained serious injuries in a car accident and decided to take her career in a new direction, the company has evolved from a small shop to a huge operation that sees products shipped to every corner of the country as well as overseas.
"Sales during isolation have really surprised us.   We have worked really hard to: increase our marketing activity, provide vouchers for front line workers and essential workers; and ramp up our live streaming events.
"I think women just want to feel good about themselves while in isolation and treat themselves to a gorgeous new bra.  Bras are such a great COVID antidote.  Women now have more time to browse online and buy something nice for themselves."
In April, Karen and her team also launched their new expanded premises in Brisbane.  The new site doubled Big Girls' operations and also added a number of other facets to the business including a coffee shop, pop up spaces for complementary businesses to launch and show case their products; and a full size live television streaming studio for her popular online show, Big Girls TV, affectionately known as BG TV.   Big Girls has over 30 staff and intends to keep recruiting over the next six to 12 months.
"Our expansion plans had been in place for a while.   As a team, in light of the need for women to continue to access lingerie and swimwear, we realised that our online services and offerings were more important than ever in this heightened time of worry and isolation.  We are so pleased that we went ahead with the expansion," Karen said today.
"I am determined to make sure that we as a business continue to support the community during this difficult epidemic and also continue to grow and evolve as a much needed retailer.
"We must be one of the few retailers expanding and growing at this time – and we are really proud of this. 
"Our café is open for take aways and we are providing free coffee to health workers – those at the front line who are dealing with this awful virus.
"We are streaming regular live fashion parades, informational events and shows from our new studio and this is going really well.
"While our online sales are increasing, we also opened a drive through click and collect facility so our locally based customers can collect items in person without having to get out of their cars. 
"We now have nine virtual fitting rooms open for extended hours to help women access bra fittings over the internet.   My staff are providing virtual fitting services full time to help women across the country access the bras they need while working or isolating at home.
"We are offering gift vouchers to the value of $30 to essential workers across the country to assist them to access bras with plenty of support while they are working long hours." www.facebook.com/BigGirlsDontCryAnymore/
Located at 1806 Sandgate Road, Virginia, Brisbane, the Big Girls total floor space has increased from 520 square metres to 1100 square metres.   The total space includes their massive customer showroom, fitting rooms, packing and distribution centre, BG TV studio, coffee shop and pop up facilities – and is equivalent in total to four tennis courts in size.
"I am really looking forward to the year ahead.   I hope everyone will pop in and see us online or in store.  We have created the new hashtag, #ChinUpBoobsUp.   We want everyone to feel uplifted in more ways than one," Karen added.
Big Girls is Australia's largest independently owned lingerie and swimwear business, providing the country's most extensive range of fashion products.   It also is one of the country's biggest retail innovators, offering virtual fittings and its latest innovation, Big Girls TV.   Big Girls TV is an online lingerie show for plus size and curvy women delivered via the internet.   Shows include the live streaming of lingerie fashion parades and other informational segments using real life everyday Australian women as models and the inclusion of a presenter who comperes the segments and responds to questions real time sent in from viewers during the course of the show.   The team at Big Girls Don't Cry Anymore affectionately call the new online TV channel 'BGTV'.   BG TV shows regularly attract hundreds of thousands of viewers.   Big Girls has also expanded its virtual fitting service and now offers nine virtual fitting rooms during extended hours to assist women working and in isolation.