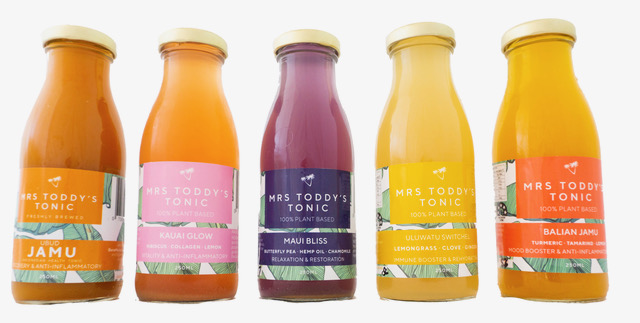 As coronavirus fear rapidly takes hold around the world, a new wave of panic buying in Indonesia is focused on preventing the onset of the virus. Locals are buying up stocks of medicinal tonic Jamu, as well as the ingredients that are used to create the traditional remedy that is hailed as helping to prevent the pandemic.
Jamu is available in Australia through Mrs Toddy's Tonic. Founder Sophie Todd discovered the ancient remedy whilst living in Bali a few years ago. Sophie formed an interest in Jamu after using it successfully to curb the inflammation in her back and her chronic period pain.
Stocks of the ingredients used to make Jamu - turmeric, ginger, lemongrass, galangal are also diminishing, and rapidly increasing in price. Market vendors that sell the ready-made tonic are being overwhelmed.
Indonesians have long believed in the medicinal benefits of Jamu, but a new University study has supported the positive benefit of the elixir on the immune system. The study, by Chairul Anwar Nidom from Airlangga University in East Java, found that consuming the traditional beverage could increase one's immunity to diseases.
The author said that the elixir contained curcumin, a substance commonly found in turmeric, and might, therefore, help prevent cytokine storm – the overproduction of immune cells and their activating compounds – in the lungs.
Sophie says, "I have always believed in the positive medicinal effects of Jamu, and I'm happy to see new research that supports long-held traditional beliefs."
The traditional beverage was discovered to have potent medicinal effects on alleviating the symptoms of bird flu. The university will conduct further research to determine whether the beverage has similar effects on the novel coronavirus.
Sophie founded the company after returning home from Bali, and not being able to find any Jamu in Australia. She started creating her tonics in her kitchen. Word spread through the small village of Avalon in Sydney's Northern Beaches about Mrs Toddy's Tonic and friends and acquaintances quickly started knocking on her door. Now Sophie distributes Jamu and other plant-based tonics Australia-wide through cafes, healthfood stores and soon Harris Farm Markets.
Stocks of Mrs Toddy's Tonic are already reducing. "I had completely sold out of one of my lines on Friday and wasn't sure what caused the spike. Now after researching what's happening in Indonesia, it all makes sense. I'll certainly be busy brewing over the next few weeks, as word gets out!", says Sophie.