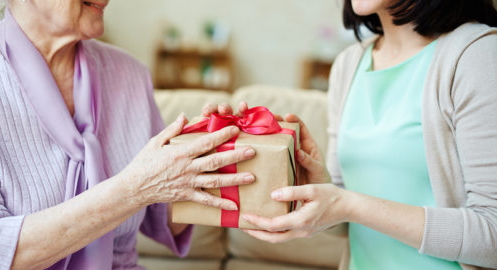 Grandma is constantly giving all her love to her grandchildren: gifts, hugs, tasty food, compliments. Well, why not show how much you appreciate her with a gift or two?
Today's grandmas are quite the fighters. Although they come from the time where there were no mobile phones, they still have adapted to the fast-paced modern world and have gotten used to all of the new gadgets and devices that we have now.
So, surprising a grandma with a gift is not an easy task, but we have lined up a list of great gifts that will suit any modern grandma. The list is ought to help you with choosing a wonderful gift for your grandma.

Tech Gifts
The typical modern grandma is already a real pro in using gadgets. So, why not make her life easier and put a smile on her face with these tech gifts?

Amazon Kindle Paperwhite
Is your grandma an avid reader? Well, this incredibly popular reader might be just for her. Amazon Kindle is the best gift for any book fanatic, delivering access to thousands upon thousands of book titles basically everywhere and any time you want.
Kindle e-reader is such a big name not because it is just any old regular e-reader. The screen mimics and simulates real paper, so, there is no eye-tiring feel that you are staring at a screen for hours on end. It is even waterproof: pouring some water on the device accidentally won't be a problem.
If your grandma also loves to watch movies and listening to music, then there are other Kindles that offer movie and music streaming. With this gift, your grandma will stay entertained all of the time.

Pot 9-in-1 Cooker
If your grandma simply cannot leave the kitchen, then instant pot cookers may be the answer for you. Do not think that your grandma will get much use out of the instant cooker? You are terribly wrong.
The 9-in-1 instant pot is an incredibly versatile gadget when it comes to cooking. The moment any home chef gets to use it, they feel how capable they become with this device. It functions as a slow cooker, electric pressure cooker, browning pan, rice cooker, steamer, warming pot, among many other features.
There are thousands of recipes for instant pot cookers available online. Your grandma will be able to explore new recipes and cook tasty things for you: a win-win situation for all!

Practical Gifts
If you have a humble grandma that would never accept expensive tech gifts, then here is a solution. These gifts will improve the quality of your grandma's life without making her feel uncomfortable about the gifts themselves.

Tile Sticker Set
Tile stickers top the charts when it comes to gifts to the senior people. If your grandma is constantly forgetting where she has put things like remotes, phones, and keys and has trouble finding them, then you can help her by buying her tile stickers!
Do not know what a tile sticker is? It is basically a tiny tracking tagger that you can glue to devices and appliances. With the tag's miniature size, you can put it anywhere your heart desires. It is waterproof and can take quite a beating, so, no worrying about it getting damaged.
Whenever your grandma cannot find something, she simply pushes a button on the Sticker. This will set off an alarm on the tracking tag, leading your grandma to the lost thing. This is a gift that saves hours and tons of effort.

Kool8 Water Bottle
As you get older your body requires a lot more care and attention. One of the things to watch out for is keeping the body hydrated. If you are young, of course, you can skip drinking water occasionally: this is not the case for the senior folk, especially if they are staying active (as they should).
Kool8 Water Bottle offers a great solution for grandmas who love to run, jog, and walk. This water bottle is also a great option for grandmas who just like having picnics and relaxing on benches in a park, as it is fully completely insulated: cold drinks stay cold and hot drinks stay hot.
Additionally, this water bottle has a tea infuser, so, it is perfect for tea-loving grandmas. This gorgeous water bottle was made with durability in mind. As seen on Watterbottle.io, the bottle is durable and has incredible strength, as the company has focused on creating an industrial-level product for their clients.

Personalized Gifts
What if your grandma is not fond of even practical gifts? Does she think they are not thoughtful and impersonal? Then, the only option for you is personalized gifts.

Twinkle in Time Map
What can be more personalized than a piece of memorabilia that reminds your grandma of an important night? Twinkle In Time provides its clients with a star map of a night's sky on any specific date. Make your grandma feel loved and appreciated by connecting directly with her memories.
The maps are fully customizable: you can put any heartfelt message on it. A big plus of this gift is that it is completely untraditional. Your grandma will not be expecting a star map, which is perfect as a personalized gift!
According to Twinkle In Time, they can do a map for any special occasion. Be it an anniversary, birthday, or a wedding: they got you covered.

After All of the Presents
These presents will be perfect for your grandma and will uplift your grandma's spirits, all you have to do is choose a gift that will suit your grandma the most. After that, wrap it up and present it to her. Each time your grandma will use your gift, she will think about what a thoughtful grandchild she has.
If you want even more great gift ideas for grandmas, then you can check out Gift Wits' take on this. You can check are some more amazing gifts for grandmas here.
However, do not forget that is not only about tangible presents. You can make your grandma very happy by simply calling her regularly on the phone or visiting her once a month. Sometimes, your grandchildren visiting you unexpectedly is the greatest gift.