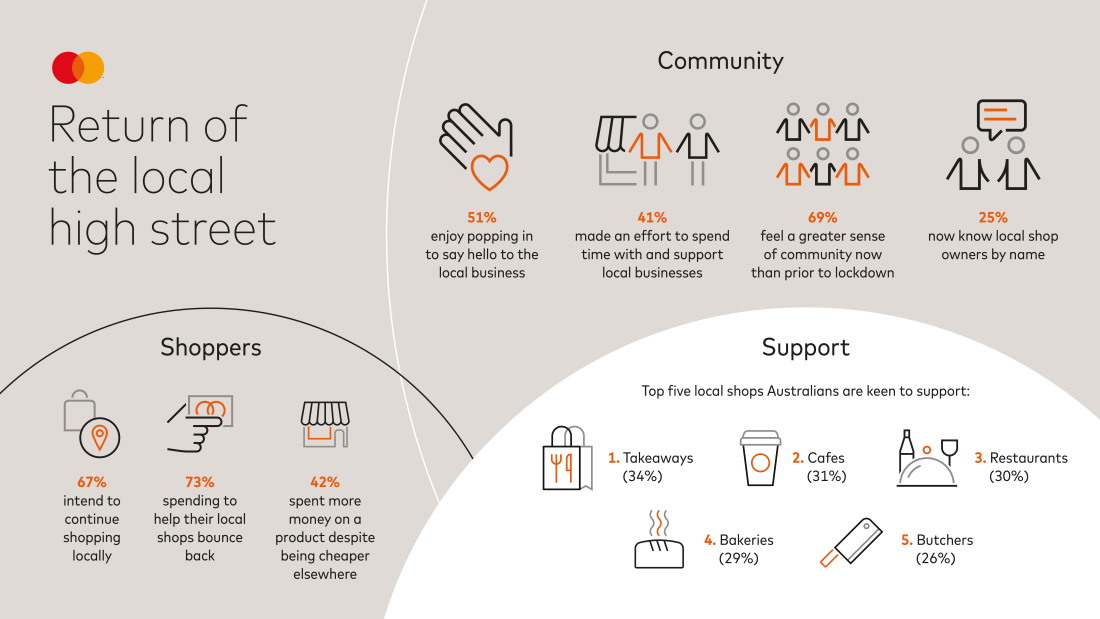 Whether it's a takeaway pint from the local pub or trying a new barista, the lockdown has reignited Australia's love for shopping locally. Takeaway shops (34 percent), cafes (31 percent), restaurants (30 percent) and bakeries (29 percent) are among those who have had the biggest bounce since lockdown, according to research commissioned by Mastercard.
 
Despite three quarters (76 percent) of Australians being mindful of their spending during the initial COVID-19 lockdown period and more than half (56 percent) not really knowing anything about their local businesses, 73 percent are wanting to actively spend in the local community to help them bounce back and recover. In fact, 42 percent are so committed to helping the locals stay afloat they've spent more money on a product or service in the local community despite knowing they could have found it cheaper elsewhere.
 
The research also suggests that the shift to shopping local has made Australians feel more connected with the community. More than one in three (69 percent) said they feel a greater sense of community spirit now than prior to lockdown, while 68 percent are more inclined to spend at their local shops.
 
From popping in to say hello (51 percent) to knowing the name of their local business owner (25 percent), more than two in five respondents (41 percent) have made the effort to spend time with and support their local, as they feel they make a positive difference to the community.
 
As Australians adjust to a new way of life, 67 percent pledged to continue showing their support to local businesses with 91 percent claiming they are now spending up to $200 per week on their local high street. This promise of ongoing support is particularly apparent when it comes to one of Australia's favourite pastimes – dining out, with 54 percent committed to eating and drinking locally in future.
 
"Recent times have changed the way people spend, with Australians rallying together to support their local businesses," said Aaron Fidler, Vice President, Retail Account Management, Mastercard Australia. "As the research shows, people have turned to trusted staples within their local communities, which has not only helped the bounce back of local shops, it has brought about a greater sense of community spirit."
 
TOP FIVE LOCAL BUSINESSES AUSTRALIANS ARE KEEN TO SUPPORT
Local takeaway shops (34 percent)
Local cafes (31 percent)
Local restaurants (30 percent)
Local bakeries (29 percent)
Local butchers (26 percent)
 While Australia is known as a nation of foodies, the states differed slightly on where they are showing their love for local. With Melbournians often claiming the crown for being the coffee capital of Australia, it's perhaps no surprise that local cafes led the post-lockdown bounce back in Victoria (39 per cent – 5 per cent more than any other state). Elsewhere, West Australians turned to the tools with a visit to their local DIY or hardware store (22 percent) while Tasmanians sought after self-care, paying a visit to their local barber, hairdresser or beauty salon (23 percent). 
 
As part of its ongoing commitment to support Australian small businesses, Mastercard recently launched its Getting Back to Small Business program, connecting organisations to a range of free digital resources, tools and services to help them navigate and adapt to the new demands of online commerce. For more information on Getting Back to Small Business, visit mastercard.com.au/backtobiz.
 
 
Methodology
On behalf of Mastercard, PureProfile commissioned an online survey of more than 1,000 Australians nationwide. The research explored the common areas where Australians are spending and their intentions to continue shopping locally following the lockdown period.
 
About Mastercard (NYSE: MA), www.mastercard.com
Mastercard is a global technology company in the payments industry. Our mission is to connect and power an inclusive, digital economy that benefits everyone, everywhere by making transactions safe, simple, smart and accessible. Using secure data and networks, partnerships and passion, our innovations and solutions help individuals, financial institutions, governments and businesses realize their greatest potential. Our decency quotient, or DQ, drives our culture and everything we do inside and outside of our company. With connections across more than 210 countries and territories, we are building a sustainable world that unlocks priceless possibilities for all. Follow us on Twitter @MastercardAP, join the discussion on the Beyond the Transaction Blog and subscribe for the latest news on the Engagement Bureau.