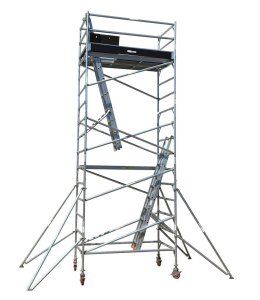 When constructing a building, or even a multilevel structure, you must use a tower scaffold to get you into position. What is unique about this type of scaffolding is that you can build it higher as you go along. Although it does have its limits, especially in regard to stability and safety, it is much better than using a regular extendable ladder. These can also be brought up to different points on the building. They are collapsible, which is also useful in some jobs. If you would like to find a tower scaffold hire that can offer you a good deal, this information will make this process very easy.
What Exactly Is A Tower Scaffold?
If you have ever seen these before, they are shaped in a rectangular fashion. There will be a platform at the top with safety rails going around. The bar is on the railings can be used to attach safety equipment. At the bottom, you are going to have legs that will come out to provide support. Many of these will be mobile, possessing wheels at the base of the support beams or tubes, and you should be able to climb up to the top without any problem. Constructing these can be somewhat difficult as they are more complex than most scaffolding systems. If you are planning on building a large home, or if you are working on an enormous building, you will need these once you start moving up.
How To Find Companies That Offer Tower Scaffolds
Businesses that offer tower scaffold will have many different types as well. If this is the type you want, you will likely choose one that is made of aluminum. This is a very light material, and it is easy to work with, plus you will have the ability to break it down whenever you need to move it. There are some companies that are going to require a deposit. Most of them will deliver which will make your job much easier to accomplish. In most cases, they will have additional types of scaffolding that you may also need. By visiting their website, or speaking with a representative on the phone, you can place an order for any of these scaffolds to be delivered.
What Are The Limitations Of Tower Scaffolds
There are certain limitations that you need to be aware of. For instance, they can only go up about 12 m. Once they go beyond that point, which is roughly 3 stories high, they will become unstable. If they do go higher, they must be affixed to the exterior of the structure that you are building at that time. Overall, you can go quite high with these, and move them wherever they need to go. Yet you must first find a company that can deliver them so you can use them for your project.
Locating businesses that have a tower scaffold hire is a simple process. If you know people that are in the construction industry, or friends or colleagues that have used these before, they can tell you who to call. Your evaluation will be based on their size, price, and when they can make that delivery. All of this must be planned in advance as these particular types of scaffolds are extremely popular whenever you are building a tall structure.