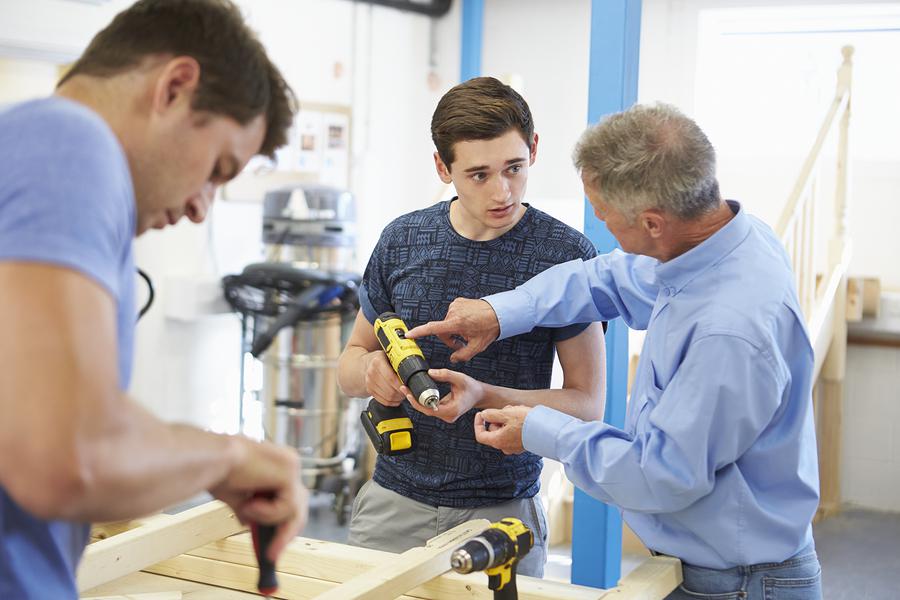 Those wanting to pursue a career in woodwork, whether it be to make furniture, construct buildings or repair existing wooden structures, will have to first commence a carpentry apprenticeship. This is how you'll be able to learn all of the skills necessary to manage all of these woodworking occupations and more and become a qualified carpenter. Then, once you have some mastery over your carpentry skills, you'll be able to share your knowledge with carpentry apprentices of your own! But what does a carpentry apprenticeship involve, exactly? We've compiled a few important points to give you a good idea of just what it is you'll be getting into in these apprenticeships.
The first steps involved in a carpentry apprenticeship
No matter whether you're a carpentry apprentice in Melbourne, Sydney or Darwin, a carpentry apprenticeship is more or less the same. As an apprentice, you'll experience a good combination of on-the-job training with a highly skilled professional carpenter, along with structured learning with a registered education provider. This provider will depend on where in Australia you are based. A carpentry apprenticeship usually takes the form of a Certificate III in Carpentry, and it is this certificate that will reflect the core knowledge you must have as a carpenter. This knowledge will be made up of important skills and technical knowledge about the industry standard equipment you will be required to use and the common hands-on processes involved with being a carpenter. There are no prerequisites involved when undertaking this certificate, but those who want a broader view of the construction and building industry may choose to take a pre-apprenticeship, such as Certificate II in Building and Construction. A carpentry apprenticeship will typically take three years to complete full-time, with 30 compulsory classes to attend each year.
What do carpentry apprentices do day-to-day?
One of the great things about being a carpentry apprentice is the sheer amount of variety involved every single day. It's a healthy combination of hands-on work, the opportunity to build interesting structures regularly and, above all, the opportunity to do this with like-minded people. Tasks that a carpentry apprentice will commonly engage with include reading construction blueprints, measuring, cutting and assembling different kinds of wood, deciding which timber to use depending on the circumstances, crafting furniture including tables, chairs and cabinets, fitting exterior wall claddings and window frames, and repairing and making alterations to damaged structures. Although a lot of the apprenticeship will feel like learning, the beauty of an apprenticeship is that you also get paid to do it! An apprentice's wage can vary greatly depending on the circumstance, but it can range from $22,665 – $47,012 per year in Australia, with earnings typically increasing over the course of the apprenticeship.
Take the plunge to become a carpenter!
In three short years, and after learning a significant amount of fascinating information, you yourself will be a full qualified carpenter (and will be earning the wage of one too!). As a qualified carpenter, you can then decide on the kind of carpentry career you'd like to pursue, whether you'd like to work as part of a company, or whether you'd like to be your own boss. The decision is completely up to you! No matter what you choose to do though, you'll have a foundation that will make you highly desired in the building and construction industry.