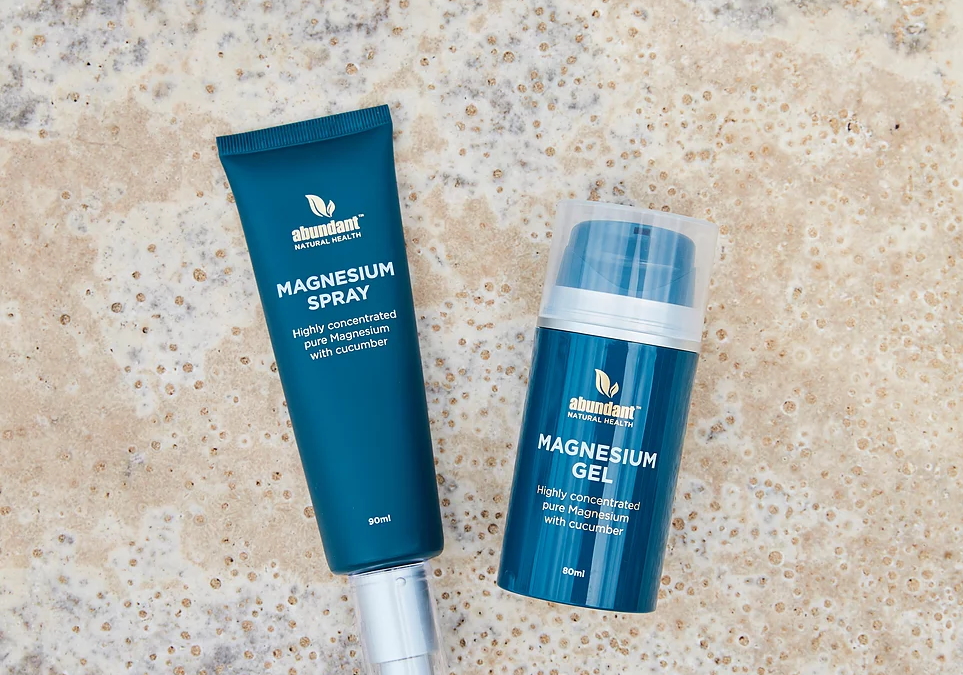 NATURAL AUSTRALIAN-MADE WORLD-FIRST IN PAIN MANAGEMENT
Australian company, Abundant Natural Health, has combined superior, unique ingredients with potent extracts from purpose bred vegetables to transform them into powerful products that have revolutionised pain management.
Australian company, Abundant Natural Health, has introduced a world-first to the body care and nutraceutical market. Listed as Australia's only plant biotechnology company creating innovation in plant science, its all-new product range pairs natural Australian-sourced, highly-concentrated, certified organic magnesium with the exfoliating properties of citric acid found in Australian-grown cucumbers to produce powerful products that revolutionise our skin by providing maximum absorption of highly concentrated magnesium, an essential mineral crucial for a healthy body, and in particular, pain management.
Launched in 2016 under the parent company, Abundant Produce, the group is Australia's biggest initiative in plant breeding and plant actives in the body care market. Passionate about creating innovation in plant science for natural, therapeutic body care, Abundant Produce is a dedicated research and development company, striving to push scientific boundaries to develop products that preserve the magnesium bioactivity and active efficacy. Also in the Abundant Produce group is Abundant Seeds, which provides expertise, scientific infrastructure and vegetable waste to Abundant Natural Health, the company responsible for developing the body care and nutraceutical products based on natural, organic minerals and active botanicals, enhanced by science.
Collaborating with an international team of talented scientists in Australia, including University of NSW, Sydney University and two leading research institutions in South Korea, research and production of the botanicals takes place at the $50 million purpose-built factory in Cobbitty, New South Wales. Converting natural by-products into powerful actives, the state-of-the-art facility produces superior actives and transformative formulations by fusing Australian botanicals and minerals with cutting-edge technology and techniques.
"Abundant Natural Health was created with a view to move away from chemicals and opioid companies to a natural approach for pain relief and management," says Tony Crimmins, CEO of Abundant Produce.
Crimmins began his career as a chemical engineer and considers 'science' with nature as the critical factor behind their success. "We're changing the game, instead, believing in an array of natural solutions that approach the problem. The result is a better, stronger approach that doesn't cause distortion. The use of one single chemical to treat pain will cause a biological imbalance, resulting in other effects, which is unnatural."
A survey from the Australian Bureau Statistics found that one in three people in Australia aged two years and over did not meet their requirements for magnesium1. While oral magnesium supplementation is the more traditional way of treating magnesium deficiency and aches and pains, many sufferers are now making the switch to topical treatments in favour of a tablet, which if taken in excess can cause abdominal cramps and have a laxative effect2.
"Magnesium is an essential mineral and crucial for a healthy body. It helps to keep blood pressure normal, accelerates muscle recovery and repair, reduces muscle soreness and cramping and even aids sleep," says Matt Miller, Formulation Chemist, Abundant Natural Health.
The process behind the unique formulation found in Abundant Natural Health products starts with the extraction of pregnant, hormone-rich cucumber juice at the 5000 m2 greenhouse, located on the campus of Sydney University. Separating the seed from the fluid, natural chemicals are extracted and combined with enzymes to create a reaction, in turn, generating acid that acts as a natural exfoliate on the skin.
"The second of the power-duo ingredients making up this remarkable product is the natural Australian-sourced, highly-concentrated, certified organic magnesium, extracted from salt farms in the beautiful Karratha region of North-Western Australia," explains Crimmins.
"A key point to consider is that our source of magnesium is not from a mine. Mines cause destruction to established plant and animal life and leave soil acidified and destroyed, which goes completely against our sustainable values."
The solar salt farms take two years to dry before turning into highly concentrated, magnesium-rich crystalline salt in discarded streams. The magnesium, which is 10 times the concentration of seawater, is then collected and precipitated using a third-party company that works closely with Abundant Natural Health in making pure magnesium precipitate.
The natural extracts are then formulated at the factory at Cobbitty, to create super-charged, sophisticated skin and body care, highly concentrated for high performance. "Exfoliating and hydrating, the cucumber extract allows the highly concentrated magnesium to penetrate the skin and enter the bloodstream where it quickly gets to work on aches, pains, cramps or delayed onset muscle soreness," says Miller.
Committed to upcycling through the ethical sourcing of ingredients, Abundant Natural Health insists on ethical and sustainable practices implemented and adhered by, across the board. This includes paying specific attention to the reduction of its environmental footprint, avoiding ineffective fillers, and the use of recyclable packaging. "Our brand is leading the world in low carbon emission magnesium production, using an innovative process to recycle brines discarded by sea-salt producers to extract high purity magnesium," says Dr Tam Tran, Chief Technology Officer, Abundant Natural Health.
Proudly Australian made, Abundant Natural Health has an exciting line up of products, set to be launched into the market across the remainder of 2019. The scientific technology behind the all-natural formulation is ever-evolving as the brand continues to work to deliver real results and celebrate the natural wonders of Australia.
Abundant Natural Heath Magnesium Body Range includes a Magnesium Gel, Magnesium Spray and Exfoliating Body Bar.
For additional information, visit www.abundantnaturalhealth.com.