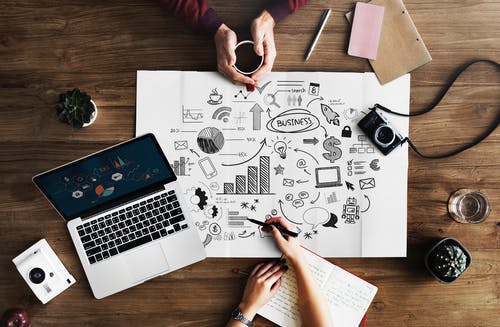 Every sensible business owner knows that one of the most important ingredients for the success of its company lies in good organization. What most of us fail to grasp, though, is the full meaning behind this word. Getting organized signifies something far more extensive than maintenance and scheduling. Proper organization means building your business around the systems, procedures and practices that are directly responsible for keeping the company productive and profitable.
Still, as complicated as this might look most of the strategies you need to implement are economic and rational. Let's take a look at some of them.
Define the business's long-term and short-term goals
Identifying (or setting up) your business's goals is an essential part of any organizational effort. It gives your company a sense of purpose, identifies the areas that need to be improved for these goals to be met and gives you a reference point you can use to measure the current progress. By doing this, you need to be aware that you will not be able to implement all strategies at once. Give priority to the organizational needs that have a direct influence on your business's success and leave the rest for later.
Organize the business space
And now, let's cover some improvements that can benefit your company regardless of its current goals and status. Organizing the business space to allow employees to achieve the highest level of productivity is definitely one of them. Here are a couple of moves you should make:
Keep the premises and computers de-cluttered – To make sure the employees have received the message, make maintenance a part of their daily agendas.
Transition to cloud-based tools – This way, you will not only take control over papers and physical documents but also speed up the collaboration between workers.
Keep the computers and antivirus software updated – Neglecting these two things can cause serious performance issues.
Reorganize the offices – Your goal is to improve the collaboration, increase efficiency as well as enable the free flow of information.
Invest in efficient productivity tools
The list of the tools your employees are using to perform their tasks should be reviewed and revised on an annual basis or even more frequently. This also makes an excellent opportunity to determine whether your organization features some productivity gaps that can be filled with the expansion of the tool list. For instance, companies that possess a car fleet could benefit from professional GPS tracking management even if they aren't necessarily engaged in transportation. Similar examples can be found in other areas as well.
Write down periodical weekly to-do lists
To-do lists are one of the most important assets in the world of business organization. Without clear instructions of what, how and when something needs to be done, your employees will be left to their devices and frequently choose the approaches that aren't necessarily the most productive. So, compile all the tasks that need to be performed in some period (day, week, month), split them into groups based on priority, quality and correlation to other tasks and pass them on to your employees – preferably a couple of days in advance.
Keep track of the numbers
Managing a business of any scale is virtually impossible without having a clear insight into the state of your organization. That is why you need to make sure that you have established an infrastructure for gathering all the essential figures ranging from profit margins to the number of social media followers. However, in order to be able to make informed organizational decisions, you will also need to know what is happening outside the house. Make sure you are constantly supplied with the tracking of market trends, vendor updates and other relevant figures.
Use virtual assistants
Mundane tasks are poison to workplace productivity – even more so talking into consideration that constant repetition opens up the doors to errors. So, make a list of redundant activates you and your employees need to perform on a daily basis and see which of them can be outsourced. Freelancers will approach these duties with all the necessary focus and attention and simply make your business run smoother. Also, you can consider utilizing some of the AI assistants that can prove to be of tremendous help in areas ranging from banking to customer relations.
Accommodate your employees
You need to be aware that the employees are the most valuable asset your company has on disposal. That is why, while keeping in mind your overreaching organizational goals, you should go out of the way to accommodate your workforce as much as possible. Do your best then to make the workplace more pleasant and adapt your scheduling so all of the employees can take necessary breaks or even continue with their duties at home. You should also try to keep the morale high with various team building activities and vacations. All these investments will make a return through increased productivity.
These seven tips should provide you with some general guidelines of how your business could be made more focused and better organized. Of course, they are only a blueprint you can use to branch out and develop your ideas. But now, you at least have a place to start. It's time to finally make those necessary upgrades and set your company on a solid foundation.