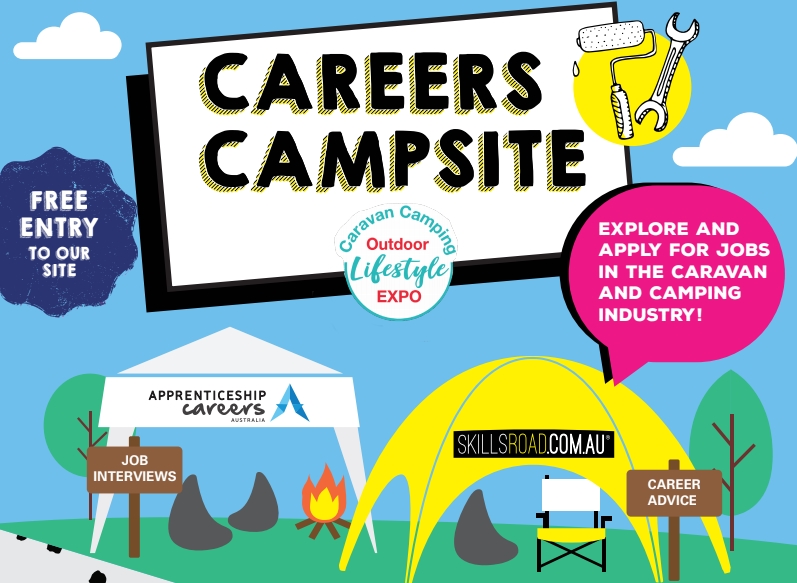 'Careers Campsite' to bring over 100 job opportunities and career advice directly to Western Sydney youth tomorrow
Skillsroad, Australia's number one destination for career advice and entry-level jobs, in partnership with Apprenticeship Careers Australia (ACA) and the Caravan and Camping Industry Association NSW (CCIA), will be bringing career opportunities and advice directly to young jobseekers from tomorrow until Sunday at the 2018 Caravan and Camping Outdoor Lifestyle Expo at Sydney Showground.

The 'Careers Campsite' stand will provide on-the-spot job interviews for an exciting range of job opportunities in the Caravan and Camping industry, free career guidance and some exciting prizes and giveaways across the four-day expo.

Currently, unemployment rates among young people in NSW are higher than the national unemployment average at 10.3 per cent, but in Western Sydney, where this year's expo is being held, the numbers are even worse. Local employers are also suffering under this skills shortage, finding it harder to find and retain the right staff to support their business.
In response to this issue, Skillsroad and ACA, both industry leaders in the vocational sector, will bring their innovative recruitment techniques, free career advice and over 100 job opportunities to this year's expo to help kick start young jobseekers' entry into the workforce.
ACA Manager Luke Radford says the Careers Campsite aims to showcase the wide array of meaningful vocational positions that are available to young people in the wider Western Sydney region, and to make it easier for them to find one.
"We want to help youth across Western Sydney seize great job opportunities, so we're bringing the opportunities to them," says Mr Radford.
"I strongly encourage all young people in the area to grab their resume, come down to the Careers Campsite and have a chat with our team.
"Our on-the-spot interviews allow them to apply for an exciting apprenticeship or traineeship in a more comfortable, accessible context that takes away the pressure and nerves that can sometimes come with the traditional interview process."

The Careers Campsite stand will run between 9am – 4pm, Thursday 20 – Sunday 23 September, 2018 at Sydney Olympic Park. Entrance to the stand is a short walk from Olympic Park train station.