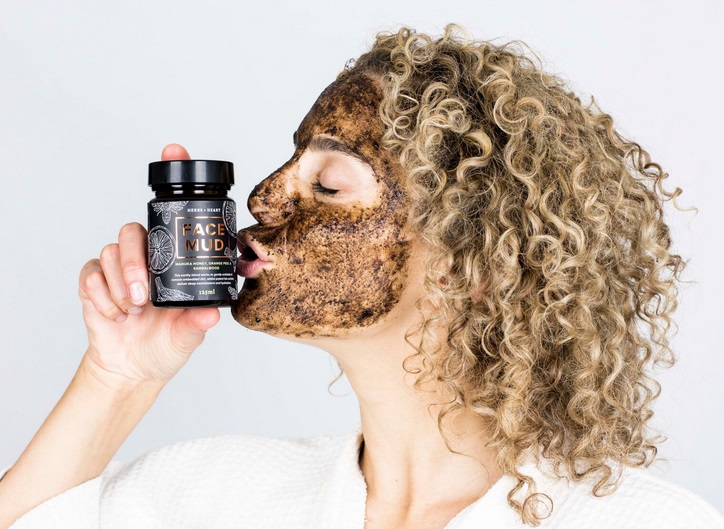 As a nation educated on the benefits of a dedicated skincare routine, most Australians are lead to believe that a fusion of oils, serums, lotions and creams is the only way to achieve a healthy, radiant complexion. For time-poor Aussies, however, it's safe to assume that most of us barely get through brushing our teeth before having to rush out the door and start the day fresh faced. 
Premium skincare artisans, Herbs + Heart, celebrates the practice of a simple skincare routine with their time-saving, multipurpose Face Mud. Resembling what the name suggests, the brown, gritty mud cleanses, exfoliates and hydrates the skin in less than 3-minutes; providing those perpetually late Aussies with an all-in-one skincare solution. 
Combining 16 super fruit and plant extracts with locally sourced Manuka Honey, Orange Peel and Sandalwood; the Face Mud has already established itself as a cult classic by Instagram's elite, simultaneously cleansing the skin of facial pollution and dead skin cells, while delivering potent bio-actives deep within the epidermis.
Ideal for daily use and sensitive skin types, the unique formulation of Coconut, Aloe Vera and Apricot Oils transforms the paste into a nourishing treatment mask, exposing the skin to a healthy dose of Amino Acids, B vitamins and vitamin C.
Boasting a chemical-free stance, Herbs + Heart aims to eliminate the harmful toxins in mass market circulation and replace skincare routines with a simplistic, multipurpose range of products powered by organic fruit and plant extracts and natural botanicals. Proudly cruelty-free, Herbs + Heart uses only ethically sourced ingredients in their fully recyclable range of products.
To learn more the 
Herbs + Heart
 Face Mud and their other natural range of products, please visit
www.herbsandheart.com