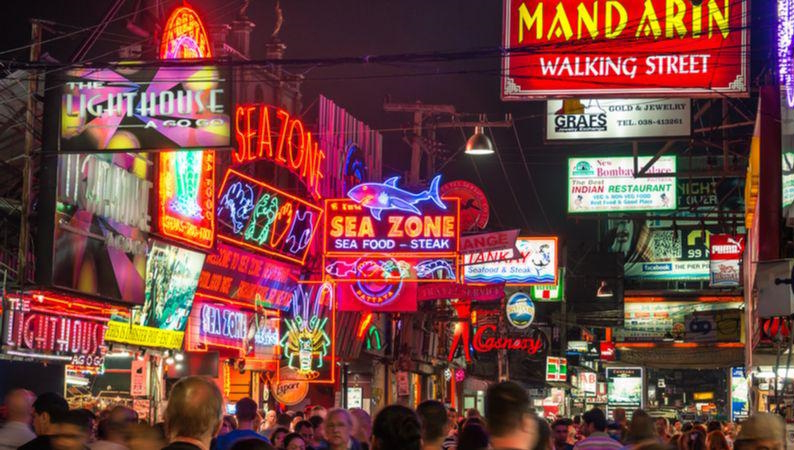 Are you an ageing not terribly rich male, needing some adventure and sick of dating western women? You may want to have a look at a certain city in Thailand. Pattaya has been described as lots of things, e.g. "Gomorrah by the sea", "the place old men go to find sexy young girls", "Gods gift to men as an apology for creating western women" and many other terms but for many it's "Paradise".
You may be aware of the copious advantages of life in this beautiful and unusual country. From glorious beaches to Bangkok's ecstatic cityscape, Thailand caters for everybody. What's the real price of residence there, though? We'll be studying the expense of renting accommodation, hiring a wife/girlfriend/date, attaining a retirement visa, and the day-to-day spending. We'll likewise look into what facilities come with different prices, and what extra features to be aware of when deciding on a place in Pattaya. Why Pattaya? Nothing else is comparable globally, some places try to some degree, but can't match Pattaya scale. Hence, if you're planning to visit or move to Pattaya but don't know what to do initially, read on to find out the cost of living in Pattaya!
Cost of Living.
The average monthly cost for a single person without rent is 20,000฿ ($880 aud) I have a much more expensive lifestyle so food and beverage (wine and beer and every day at good to gourmet restaurants) for me is more like 50,000 Baht per month ($2200.00 aud) Rent, from 8000 Baht pm up, but if you like a beautiful resort style condo with security, swimming pool, sauna, steam room and gym from 15000 Baht ($660.00 aud pm) so that is living costs from 28000 Baht per month ($1250 aud) up.
Things to do in Thailand
Thailand is almost the focal point of the planet so journeying to anyplace on the planet isn't distant or costly unlike Australia. In any case, Pattaya, alongside the remainder of Thailand, has a huge measure of things to do from the start; Pattaya's nightlife, which can't be found anywhere else. From go-karting to bungee jumping, waterparks to historical centres, scuba diving to whitewater rafting, street food to five-star eateries, it has all. Furthermore, on the off chance that all that sounds hohum, Bangkok is not far away. It would be a error to think Pattaya is third-world.
Real Estate Investments in Pattaya
In a word it's good. Met a man who just purchased his 4th condo, he was telling me by the time he paid the balance two months later the Real Estate agent cornerstone said he could sell it immediately for a 10% profit, apparently his 4 condos have hardly ever been without a tenant and as more and more men of all ages find out about this place it just keeps growing. Cornerstone makes it possible to purchase condos and to receive rent from condos with Bitcoin and this can all be done through one of many privacy wallets such as incognito which is untraceable, incognito wallet also pays approximately 7% interest on your bitcoin and other crypto, some real estate agents will also keep your rental earnings in their own bank account they keep everything on record so they can pay your juristic fees any repairs needed or any other expenses and it's just subtracted from the account and then they can pay you cash whenever you wish so there's no need to even have a bank account in Thailand, however I find it much easier to have one with a Visa card attached so I can draw out my Thai earnings from anywhere in the world,
Obtaining a Retirement Visa
Officially: To get a retirement visa in Thailand, you need to apply for either the One-Year Retirement Visa ("O-A"), available to those 50+ from any country and lasting 1 year with yearly renewal, or the Ten-Year Retirement Visa ("O-X"), issued to 50+ from certain countries and renewable twice for up to 10 years.
You must meet the financial criteria for the visa. This involves having THB 800,000 in a Thai bank account or earning a minimum of THB 65,000 each month (with proof from your embassy in Bangkok) or a combo of these two (THB 800,000 across both).
Unofficially: You don't need your 800,000 Baht in the bank, but you do need a Thai bank account. Visa experts will guide you through this, see final thoughts..
Wife or Girlfriend in Thailand
Hiring a partner isn't as bad as it sounds. Thai females aren't overly concerned with your appearance, age or size. What they want is someone who has a good heart and treats them properly. Money's necessary too as they need to support their family, often on a farm. They also want to make you happy and comfortable in the relationship. Of course, these are just generalisations and may not apply to every Thai girl. The best way to find out what a Thai girl likes or dislikes is to talk to her and get to know her better.
Depending whether or you want a girl who could easily represent Miss Thailand in Miss universe or or just a sweet down to earth honest girl can range anywhere from 50,000 Baht per month to 20,000 Baht per month It can be for as long as you wish. If you're looking for a girlfriend 1000 - 5000 Baht per night, notice I did not say escort or prostitute. As far as the English language is concerned a bar girl would be described accurately as a prostitute, but anyone who knows or has anything to do with the girls would never call them that because there are major differences to what a prostitute is in a western country to what a bar girl is in Thailand, it's all about supporting their family, family comes first then you, just keep that in mind and everything is great. I am sure some bad relationships with Thai girls exist but I haven't heard of any I only know of successful marriages and some guys are happy to have four or five regular girls to keep him company depending on what it feels like on the day or night, but be warned, if you fall in love with one of these girls and don't make some sort of commitment to her she could be gone in a flash by somebody else who will.
Food Prices
Thai street food, very cheap good dinners for about 60-90 Bath ($2-$3 aud) restaurant or western cafe meals, from 300 Baht up ($12.00 aud sea food included) beer from a bar 50-70 Baht.
Final Thoughts
The brown envelope economy in Thailand is alive and well, most Thai people are okay with this and be honest with you so am I the brown envelope economy in Thailand is done in what I call the McDonald's way it's cheap it's fast and it's actually helpful. The food is great, medicine is cheap and no prescription needed, doctors are plentiful, hospitals are cheap and fast no waiting there, the dentists in Thailand are as good or even better than in the western world and the girls are not feminists anything but a feminist.