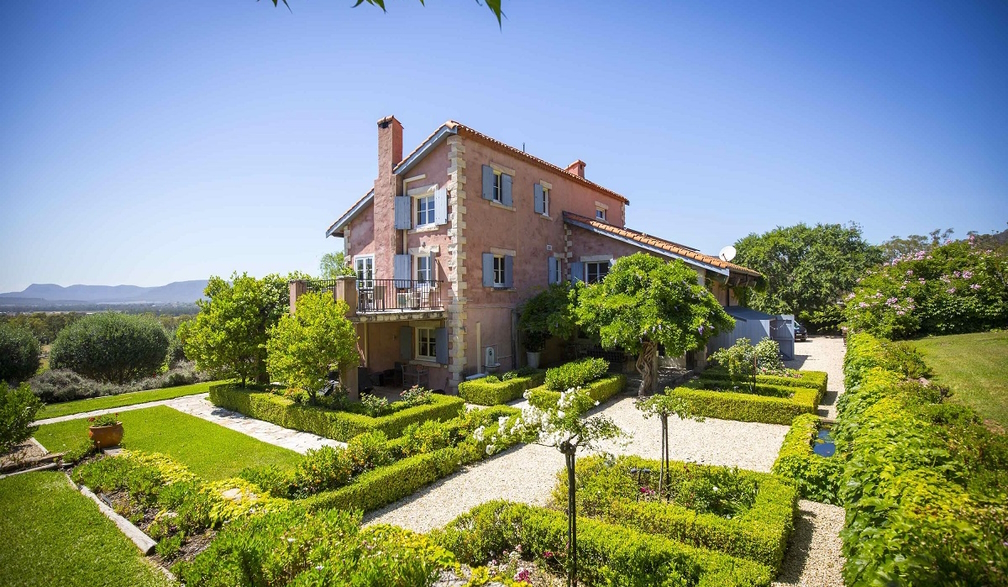 Hunter Valley is one of the oldest wine regions in Australia with hot-air balloon rides, wine tasting, picturesque landscapes, and tranquility. High demand for Hunter Valley accommodation created an offer of various styles and sizes. Here are the top 8 designed Hunter Valley accommodation houses to stay in that fit every pocket and desire. 
With so many fun things to do in Hunter Valley, many people come here with their families for quality time. Alfie's Place is a 5-bedroom house that is both rustic and modern, providing everything you may need, especially if you come with kids. Pastel walls paired with lots of natural light and bright neutral shades reflect the peacefulness of the area. 
However, the outside is a different story with a Mediterranean color scheme and tropical plants surrounding the modestly-sized swimming pool. A slider attached to the wooden construction is the thing kids will fall in love with. Although trust us, the adults can't resist it either!  
Luxurious mountain retreat
Bimbadeen Mountain Retreat is a large house overlooking the Hunter Valley from a decent elevation. Built from stone, this accommodation can fit up to 10 guests and has five bathrooms so it may as well resemble a private hotel only for you. 
The big outdoor area turned Bimbadeen into a sought location for team building or small celebrations thanks to the outdoor fireplace, pizza oven, and hot tub. The interior design respects the use of natural materials outside, so you will be surrounded by wooden beams and stone tiles. Equipped with a heating system, this estate is ideal for winter vacations or colder months.
A historic house for weddings
Weddings are a common affair in Hunter Valley and many decide to have a ceremony and reception at one of the grand villas. One such place is Abernathy House and Cottage, a historic house built in the 1920s. It has 17 bedrooms for around 34 people to stay in, and a large beer garden to fit a big reception party. A swimming pool inspires many to stay here for a few days after the wedding and continue having fun doing many activities available in Hunter Valley. 
The interior is decorated with leather and wooden furniture giving the grandeur look it deserves. The kitchen is equipped with a professional-grade stove, oven, and grill so you can hire a professional chef to cook on the spot. Because of so many amenities, this is a go-to conference venue as well, completely equipped with technical features, like a sound system and fast WiFi. 
Modern design in the countryside
Those who are not so keen on rustic and colonial architecture will love the Pindara estate. Overlooking the lush greenery of the Valley, this property can house 14 guests in 5 bedrooms. Minimalistic interior design works well as a contrast to the outside abundance of sights, from treetops to vineyards. 
Modernly equipped kitchen (namely, espresso coffee machine) and lounge room with a fireplace turn it into a beautiful choice to throw parties or just come to chill with loved ones. The surrounding area is great for short hikes, but you can always take a long walk to one of the cellars for a meal and locally-produced wine.  
A French provincial farmhouse and vineyard
Those wanting to immerse into the region completely will adore Talits Estate Vineyard. A French provincial-style farmhouse only two hours away from Sydney is an idyllic getaway for a party of 10. Sipping wine on the verandah while enjoying the carefully landscaped gardens and with feet dipped into the swimming pool is heavenly, especially on a summer day.
Inside décor respects the farmhouse architecture with rustic wooden chairs, white tiles in the kitchen, and a fireplace with a stone mantel. Earthy tones are dominant here paired with white and off-white shades, occasional blue splashes, and flowery decorations. If you wonder where to start your experience of Hunter Valley, we suggest cellar doors and restaurants, only 15 minutes away by car. 
A luxurious retreat for couples
We already mentioned Hunter Valley is a popular couple's retreat and Mandalay Villas estate proves that in every detail. This is a small accommodation with one bedroom and two bathrooms intended for two guests. Luxurious interior and exterior design give it a special appeal for those who are celebrating an anniversary or any other special occasion. 
Located underneath the Broken Back Mountain Range, it brings together Australian wilderness with contemporary style. A King-size bed with a massive wooden frame and porcelain lamps at the nightstand add to the cozy ambiance. This is particularly true when you realize that the living room has a wood fireplace and a swimming pool is heated all year round, keeping the estate booked during chillier seasons.   
Surrounded by palm trees, Aquila is a gorgeous hill house, seated above the green valley full of vineyards. The view from here is the number one reason why people choose this Hunter Valley accommodation since you can see as far as Newcastle. The 4-bedroom property can fit 8 guests throughout the year, but it stays the most popular in the summer due to the swimming pool and its tropical setting. 
Brick walls and light wooden fixtures make the interior warm and inviting with the dinner table positioned to overlook the amazing view. Even the bathroom has a large window so you don't miss out on the nature outside, but don't worry it comes with an elegant roll curtain that won't block the sunlight.
A stylish villa on the golf resort
Believe it or not, Hunter Valley is a popular golf spot in Australia with many housing options located within the available courses. One such place is The Arthouse — a 5-bedroom, a 4-bathroom villa that can accommodate up to 10 guests. Inside, you will find an elegantly furnished kitchen with high-end appliances and a living area with a fireplace and leather seating set. 
The house has three floors connected with wooden stairs and all overlooking the green hills of the resort and well-manicured landscapes. Bedrooms on the lower floor have direct access to the backyard, loved by those who like to practice yoga or soak in the sunlight before their morning coffee. The color scheme is predominantly neutral and beige, with some bold details like colorful artwork, cushions, and flowers. If you have business partners to impress, The Arthouse also comes with access to the golf course and all its facilities, like the gym and swimming pool.  
Finally
These best designed accommodation houses in Hunter Valley promise the best time to those who come here for holidays, celebrations, or escape. Myriad activities will keep you entertained, and with so many amenities in accommodations, you won't have a problem throwing a party of your own.