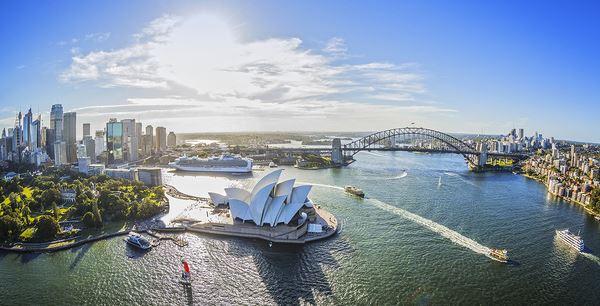 Australia - One of the most popular travel destinations in the world, is camping, backpacking, diving, and road trip destination. The country's immense beauty from Uluru to the Outback, rainforest to pristine white sand beaches, and, The Great Barrier Reef is the most significant thing to experience. It is also home to the iconic human-made wonders, including Sydney's Opera House and Harbour Bridge.
World-famous for its natural wonders, Australia falls among the list of world's most highly urbanised countries. Besides its alluring beauty, the other reasons to visit Australia includes the friendly locals, fantastic adventure experiences, and the amazing East Coast that stretches to around 4000 Km from Melbourne to Cairns.
It is a perfect destination for anyone looking forward to either exploring a unique cultural experience, an island getaway, or to build their connection with nature.
Also, If you choose to explore Australia along with your family and pet, then don't forget to consider Air Canada Pet Policy, in case you are travelling by Air Canada Airlines.
I would also like to give you a hot tip concerning your air travel. If choosing to travel by Air Canada or any other airline of your choice, then you may consider Faremart - An exclusive online ticket booking platform with great discounts on bookings, 24*7 customer assistance, and access to more than 450 airlines, globally.
With countless reasons to visit Australia, let me acquaint you with the best of things to see and do in the country.


#1. A Trip to Outback
No trip to Australia is complete if you don't get to visit Outback. While you make your trip to the Outback, you will be able to see crocodiles, lakes, valleys, and the red desert. You may explore the adventurous area by taking a four-wheel drive, or via helicopter. The other options include a camel ride, dirt bike, kayak, airboat, cattle train, stand-up paddleboard, and snorkel.


#2. Fraser Island
Listed among world-heritage sites, Fraser Island is the world's largest sand island. The island is a mecca for four-wheeler enthusiasts from around the world. The island is also famous for many adventurous activities, including hiking, swimming, and camping.
With more than 1500 km of sand tracks crisscrossing the island, you will be able to see some of the best natural scenic beauty spots including Lake McKenzie, ancient rainforests, coloured sands, and many more.
#3. Perth's Sunday Session
Australia's west coast capital, Perth, is often overlooked by most of the travellers. They see it as a highly overpriced place and thus avoid visiting. I see Perth as more of a large town than just a city and is the best spot to enjoy a Sunday Session.
A Sunday Session is an Australian tradition of drinking and enjoying on Sunday afternoons. You may find out more about things to do on a Sunday Session in Perth.
From food and beer to beaches, Perth is all about excitement and the best way to
make the most of your trip.


#4. Go to Cairns
Australia's getaway to Northern Queensland, Cairns is a pretty typical tropical city and a perfect spot for you to visit the Daintree Rainforest, the Great Barrier Reef, Cape Tribulation, the Atherton Tablelands, and many more.
With a lot of beautiful sites to see, the place calls for an extended stay. In my opinion, you should give yourself at least a week to explore the area with some time to lounge around the beaches.
For a small town, this place has way too much to offer.
You may check out this list of things to do in Cairns.
#5. Take the Wine Tour
Whether you choose to go to Hunter Valley, Margret River, or the Barossa Valley, you will get your chances to taste Australian Wine, right from the source of its origin. I suggest you add 'visiting the wine country' to your bucket list.
Once you visit the wine country and start tasting Aussie Wine, one thing I can assure you of is that your senses will be on a feast, for quite a time.
I suggest you base yourself in the place for a while and relish the trippy moments.


#6. Sydney
Surrounded by world-heritage sites, acclaimed wine regions, and iconic beaches, Sydney is Australia's most invited and largest city. With incredibly beautiful sights to see and variety of attractions, the city offers so much to its visitors.
While visiting Sydney, you may explore the museums, take the town hall tour, visit Botanic Gardens, Rocks, and the Hunter Valley. You may also consider attending cultural events, most of which are free. Also, don't miss out on the spectacular Sydney Harbour's firework at 9 pm, and if you are visiting Australia on the occasion of the new year, then it will be at midnight.
Well, the fun does not end here.
Check out this list to know more about things to do in Sydney.
#7. Luxury Train Ride Across the Continent
The Ghan - Train named after the Afghan c amel drivers, who used to roam around Australia's centre, will give you an unforgettable ride for around 2979 Kilometers of tropics, scorched deserts, the red centre, and the mountains of the flinders ranges. From Darwin to Adelaide, The Ghan takes about three days to cross the continent, including amazing tours in Alice Springs and Katherine.
You also have an option to take a ride on the Indian Pacific, a four-day journey from Perth to Sydney, or vice-versa.
#8. A Foodie Road Trip Around Tasmania
One of the best things to do while on a trip to Australia is feasting through Tasmania. There is a great variety of local food, with around an hour's drive between Gourmet towns and stores. The place is also famous for its amazing and cool climate wines.
For a start, I suggest you begin your day with fresh bagels and doughnuts at the Farm Gate Market in Hobart and then feasting on entire delicious local food available across Tasmania.
Over to You
Having told you about the best places to see and things to experience in Australia, I hope your trip to the country will paint a beautiful memory, for your entire life. On an honest note, some of you might even look forward to revisiting the country. Well, that's what Australia does to its visitors.
Also, don't forget to share your experiences in the comment section below. Moreover, It would be great if you share the images of your pleasant trip to Australia too.
Wishing you a happening trip to Australia!!