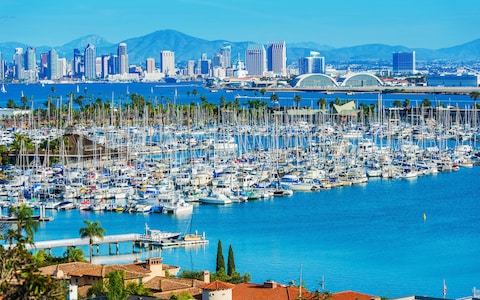 Traveling with kids generally means that you can't go off and play your favorite casino games at the Grande Vegas online casino or spend your vacation engaging in other adult-type entertainment. Yet there's lots to do with your family in Southern California that will give the kids a vacation to remember and allow the adults to revisit childhood with some fun and excitement.
Three of the top activities to enjoy in near San Diego include:


Legoland


Even if you've been living under a rock and have never heard of the fantasy Legoland amusement park, you can probably envision what it's like, just from your familiarity with one of the world's most popular toys.
But Legoland of Carlsbad, located on the north side of San Diego County, goes above and beyond anything that you could imagine. It's an entire world of Lego blocks which gives both kids and parents the opportunity to indulge their imagination and collaborate on both simple and highly-advanced Lego projects.
In addition to the over 6 million Lego blocks, platforms, windows, doors, people, animals, roofs, wheels and other types of accessories, Legoland has own water park and aquarium, all set in a wholesome, family-type atmosphere.
Legoland has plenty of Lego for kids to use to build and with which to experiment but there are also jaw-dropping visual displays that show miniaturized recreations of San Francisco, New York, and Washington D.C., with every item carefully thought out for authenticity.
There are also scenes from several of the Star Wars movies (you'll gape at the enormous LEGO Death Star) and fairy tale scenes. For bigger kids and grown-ups there are attractions, shows, and rides including three roller coasters. The theatre presents LEGO Friends live shows and, of course, LEGO movie-themed set items.
Kids (and their parents) can head to the Build and Test site and drive kid-made vehicles or play on kid-powered toys. Near the park's entrance, there's the one-acre NINJAGO World zone where you can stroll through statues of ninja warriors. Ninja fans can take their passion to new heights in the play areas—each of the rooms is designed to cultivate a different Ninja skill.

They include:
*  Zane's Temple Build -- kids build with LEGO bricks along the perimeter of a LEGO Asian temple.

*  Playground

i  Kids test their balance on the playground-style Kai's Spinners.

ii  Kids test their speed by pushing lit-up buttons in Jay's Lightning Drill speed cage.

iii  Kids can showcase their agility on Cole's temple-oriented Rock Climb.
The highlight of the visit, for many families, is the NINJAGO, The Ride which takes a ninja-themed train through 13 areas guarded by NINJAGO foes like the snake-like Great Devourer (who must be defeated by everyone in the car working together) or Lord Garmaddon, King of the Skulkuns. Riders wear 3D glasses as they fire at targets, earning points along the way.
Peter Ronchetti, general manager of LEGOLAND California Resort, explains that the theme park tries to take hands-on interactivity to a new level. "We're firing the imagination to another degree by using gestures to propel fire and ice. It's bridging the gap between the old way of using physical props—bricks and the like—with the new world of virtual technology."


Sunny Jim's Cave


La Jolla, a San Diego suburb, hosts a unique underwater site that allows visitors to see the sea from under the waterline. Sunny Jim cave is the only sea cave in California that is accessible by land. It was discovered in 1902 by a German engineer and philosopher named Gustav Schulz who believed that, if he could construct a tunnel that would bring people to the underwater cave, people would be interested and would come to see it.
Two workers worked for two years, digging out the tunnel with a shovel and pick. At first, guests accessed the cave via rope but within a few years, it was determined that it would be more feasible to build stairs. A stairway of 145 stairs was then built to lead down to a platform where guests can see one of the most unique ocean views on the West Coast.
The cave was dubbed "Sunny Jim" by Wizard of Oz author Frank Baum who thought that the opening of the cave looked like Sunny Jim, a mascot for a then-popular British cereal, Most visitors usually spend 30 minutes to an hour on the trip, so it's a visit that you would probably want to combine with another San Diego-area activity. However, it's only a few dollars entry fee and it's so unique that it's worth the side trip.
The tunnel is dark, musty and slightly mysterious, making it a cool visit, not just "educational. Once you descend the stairs you can stand on the viewing platform and watch the water flow into the cave and hear the sounds of the ocean echo.


Knott's Berry Farm


Another San-Diego area attraction, Knott's Berry Farm in Buena Park, was, actually once a Boysenberry farm but over the last 100 years, it's grown into one of the top amusement parks in America. The park features dozens of rides, performances, and attractions that are divided into themed areas.
There's a Timber Mountain Log Ride, a Camp Snoopy with Peanuts Gang fun, an Old West Ghost Town and a Boardwalk. Guests can also visit the Knott's Soak City Water Park where there are tube, body and speed slides plus a lazy river, giant wave pool and interactive kids area.
When you're finished with the action you can sit down to a chicken dinner, made famous by Mrs. Knotts herself with boysenberry treats for dessert!