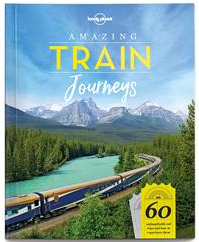 Four Australian rail trips named among the 60 showcased in Lonely Planet's Amazing Train Journeys


The golden age of railroads may be in the past, but train travel is experiencing a 21st-century renaissance. High-speed rails and new long-distance routes have put trains back on the map, and rail journeys back onto travel bucket lists.
Lonely Planet's new book Amazing Train Journeys (published this month, AU$39.99) spotlights 60 of the world's greatest, most memorable routes, as selected by its train-loving travel experts. Each trip featured includes a summary, ticket and distance information, tips, highlights, photos, an illustrated map and a timeline of stops.
"Here at Lonely Planet, we have always had a soft spot for trains," Editorial Director Tom Hall writes in his introduction to the book. "We're excited to bring our passion to the pages of Amazing Train Journeys. Whether you prefer high-speed or deliberately go-slow, we hope readers will be inspired to get out on the rails again."
From epic international routes to commuter lines to classic heritage railroad tracks, Amazing Train Journeys takes readers through mountain peaks, scenic countryside and past dramatic coastlines, beautifully illustrating the advantages and freedom unique to traveling by rail.
Australia is represented in the book by four rail trips: The Ghan, South Coast Line, West Coast Wilderness Railway and Kuranda Scenic Railway.
Other top routes showcased in the book include:
Johannesburg to Cape Town, South Africa
The Sunset Limited, USA
The Darjeeling Toy Train, India
Settle to Carlisle, UK
The TranzAlpine, New Zealand
Amazing Train Journeys by Lonely Planet
Foreword by Mark Smith (The Man in Seat 61)
Published October 2018 | AU$39.99 | 1st Edition
240mm x 185mm | 304 pages | Hardback | ISBN: 978-1787014305

About Lonely Planet:
Lonely Planet is a leading travel media company and the world's number one travel guidebook brand, providing both inspiring and trustworthy information for every kind of traveller since 1973. Over the past four decades, we've printed over 145 million guidebooks and grown a dedicated, passionate global community of travellers. Lonely Planet can be found on lonelyplanet.com, mobile, video and in 14 languages, nine international magazines, armchair and lifestyle books, ebooks and more. Visit us at lonelyplanet.com and join our 14 million followers on Facebook (facebook.com/lonelyplanet), Twitter (@lonelyplanet), Instagram (instagram.com/lonelyplanet) and Snapchat (@lonely.planet).