Written by

Caroline Osborne, Postdoctoral Research Fellow, Office of Community Engagement, University of the Sunshine Coast
The COVID-19 pandemic has brought into sharp focus the need for connection to our local community and the health challenges of the retirement village model.
We know that, as we age, most people prefer to stay in their own homes and communities instead of moving to retirement villages. Some have gone so far as to say retirement villages have had their day. However, the reality is not quite that simple.
Read more: Retire the retirement village – the wall and what's behind it is so 2020
The challenge is that seniors are not well informed on what they could demand of the market. Planning schemes could also do more to create incentives for the changes we need now.
The challenges are complex and urgent as the global population grows and ages. Yet our housing supply reveals a bad case of the tail wagging the dog. Finely tuned financial models and development processes are driving the housing products available in the market.
What's needed instead is adaptable housing and neighbourhoods to help people as they move through life's stages.
Are the days of the retirement village numbered?
Many individuals and families struggle to find the right "fit" between the supported living options of retirement villages, independent living lifestyle villages and staying in the (often unsuitable) family home as their needs change.
Such villages offer viable products in the market as an important part of the housing mix. The models have some advantages in that they:
are thoroughly costed and provide a good return for developers

offer a range of living options to suit most budgets and level of care needs

promise security, activities and a sense of community.
Seniors are best placed to say what they need
However, our research with seniors in south-east Queensland revealed a desire to "age in neighbourhood" and to have neighbourhoods with a mix of ages and building forms.
Planning schemes could drive this now by giving priority to, and providing incentives for, sustainable and accessible housing close to transport and other services.
We worked with more than 42 seniors in south-east Queensland to design a series of housing types. These were based on what they told us were important to them in a home and a neighbourhood.
The table below summarises the key features that they told us make a neighbourhood and a home a good place to live as they age.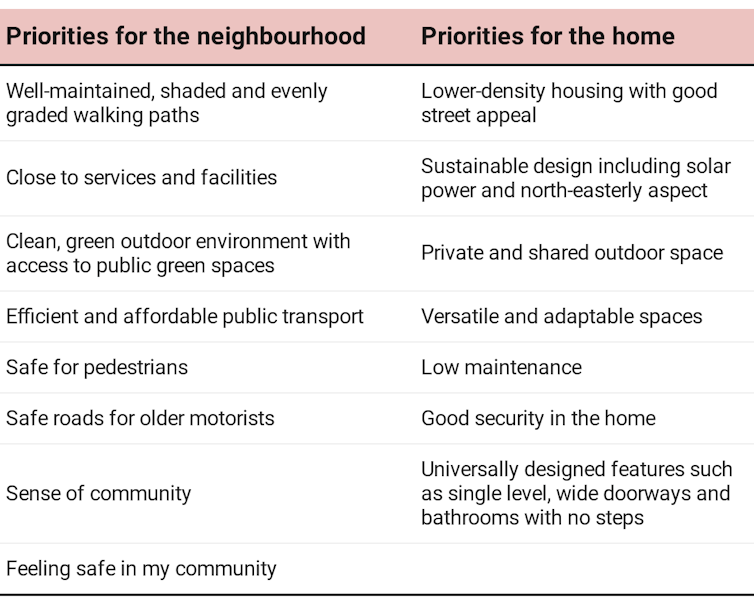 Authors: Caroline Osborne, Postdoctoral Research Fellow, Office of Community Engagement, University of the Sunshine Coast
Read more https://theconversation.com/ageing-in-neighbourhood-what-seniors-want-instead-of-retirement-villages-and-how-to-achieve-it-138729