Written by

Fron Jackson-Webb, Deputy Editor/Senior Health + Medicine Editor
As the world approaches 2.5 million coronavirus cases, some regions have reached the peak of the virus and the number of new cases and deaths is slowing.
This includes New York, the epicentre of the pandemic in the United States. It has had almost 15,000 deaths so far, but is seeing fewer deaths each day. Meanwhile, case numbers in Europe have surpassed a million, with the virus claiming more than 100,000 lives so far. But numbers are now declining.
In many regions, it's too early to lift lockdown restrictions, but the planning for this is underway. Over the past week on The Conversation, experts from around the world have delivered advice to governments based on local trends, threats and resources available.
The situation is different for each region, but most experts agree any exit needs to be a staged response, with a strong focus on testing and tracking to avoid a second wave of infection.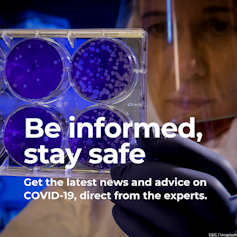 Authors: Fron Jackson-Webb, Deputy Editor/Senior Health + Medicine Editor
Read more https://theconversation.com/coronavirus-weekly-as-virus-numbers-peak-governments-are-charting-the-path-out-of-lockdown-136712