Written by

Suze Wilson, Senior Lecturer, Executive Development, Massey University
Imagine, if you can, what it's like to make decisions on which the lives of tens of thousands of other people depend. If you get things wrong, or delay deciding, they die.
Your decisions affect the livelihoods of hundreds of thousands of people, resulting in huge economic disruption, mass layoffs and business closures. Imagine you must act quickly, without having complete certainty your decisions will achieve what you hope.
Now imagine that turning your decisions into effective action depends on winning the support of millions of people.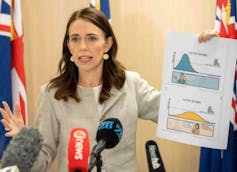 Authors: Suze Wilson, Senior Lecturer, Executive Development, Massey University
Read more https://theconversation.com/three-reasons-why-jacinda-arderns-coronavirus-response-has-been-a-masterclass-in-crisis-leadership-135541