Written by

Peter Martin, Visiting Fellow, Crawford School of Public Policy, Australian National University
The government says its second stimulus package – the second in ten days – is temporary and targeted, but that's not really true.
What it is is big, automatic, and infinitely increasable.
The first package, released ten days ago, cost A$17.6 billion. This one costs an extra $66.1 billion. (It's best not be be too distracted by the claim that the total is $189 billion, almost 10% of GDP – it includes an element of double counting.)
The government has doubled, and then doubled again, what it intends to spend, and has made it easy to spend much, much more.
Automaticity is the key
Josh Frydenberg's first assignment on being appointed parliamentary secretary to Prime Minister Tony Abbott in 2013 was to cut red tape.
The fewer needless procedures that people and businesses have to comply with (and the fewer forms and multiple forms they need to complete) the better everything can work.
In good times, it's a good idea. In bad times, it's essential.
As treasurer, nine months ago he set up a deregulation taskforce staffed by a dedicated unit within treasury.
Its work has infused the government's second response.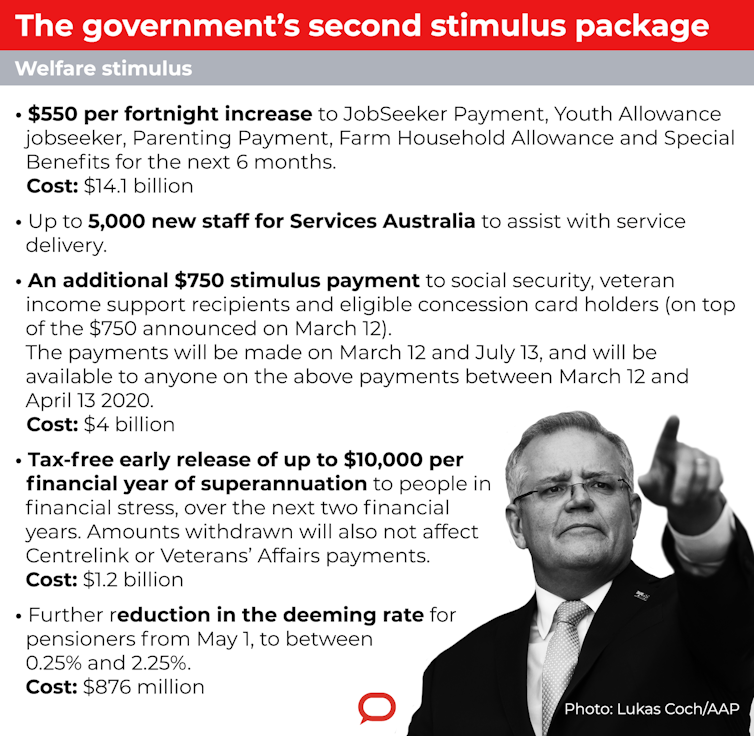 Authors: Peter Martin, Visiting Fellow, Crawford School of Public Policy, Australian National University
Read more https://theconversation.com/scalable-without-limit-how-the-government-plans-to-get-coronavirus-support-into-our-hands-quickly-134353