Written by

Darren Paul Fisher, Head of Directing, Department of Film, Screen and Creative Media, Bond University
Something incredible might be happening to James Bond: a separation, a personal Brexit of sorts. According to the Daily Mail, while Daniel Craig will return as Bond in the next film, Bond may not return as 007. There will, reportedly, be a new 007 in town, and she'll be black. And a woman.
At this stage, the rumour that 007 will be played by British actress Lashana Lynch is unconfirmed, sourced from tabloid "insiders". But if this claim is true (and it does have more than a hint of authenticity to it) what does it mean? A dangerous fragmentation of the franchise? Or a necessary evolution?
As a lifelong Bond aficionado, I hope the news is true for the simple reason that it's about bloody time. I love Bond, but he has only ever moved with the times on the most surface of levels – like a cool uncle who continues to buy the latest tech, but no longer quite understands how to use it. For the entirety of its life, the franchise has been the epitome of conservatism.
The first Bond film I saw was The Spy Who Loved Me. The action, adventure, humour, gadgets and "coolness" of the alpha-male in action was intoxicating, and I burned voraciously through the movies, novels and short stories.
It should be said that there are two distinct Bonds: one of the page and one of the screen. The book Bond, created by Ian Fleming in 1953, actually worked in an office. The novels were a fulfilment fantasy of the (male) office clerk, one who was still experiencing the effects of rationing from WWII and had no opportunity for international travel.
Bond had a (female) secretary and did mundane paperwork until he got the call from M, who would send him on impossibly glamorous and global secret missions. The books were unashamedly equal parts thriller and travelogue. Written in the pulp tradition, the symbolism of the stories was deliberately obvious; heroes had names like "Trueblood", with the villains usually foreign and most often "half-breeds".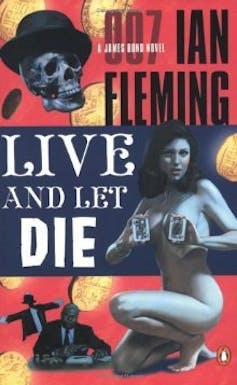 Authors: Darren Paul Fisher, Head of Directing, Department of Film, Screen and Creative Media, Bond University
Read more http://theconversation.com/a-black-female-007-as-a-lifelong-james-bond-fan-i-say-bring-it-on-120419