Written by

Rob Manwaring, Senior Lecturer, Politics and Public Policy, Flinders University
The ALP's defeat at the 2019 federal election was a surprise. Shorten's Labor fell short, against both wider commentariat predictions and unrepresentative polls. Yet, if we take a step back, the result is less surprising if we locate Labor's defeat in the wider "crisis" of social democracy.
Across the advanced industrial world, the centre-left largely remains in opposition, with poor prospects for immediate future government. In the UK, Corbyn-led Labour has been unable to capitalise on the Brexit result, and the chaos that enveloped Theresa May's Conservatives. A likely "Boris bounce" (or "Hunt honeymoon") may only make the gap wider.
In Germany, the Social Democratic Party (SPD) was once a colossus of European social democracy. But it has failed to dent Angela Merkel's long dominance of German politics, and critically, is now being pushed even behind the German Greens as the main left challenger.
Elsewhere, the results are poor. Last year, Matteo Renzi's centre-left coalition lost out at the Italian elections, and the extraordinary populist government of the Five Star Movement and far-right League hold office. In France, the Socialist Party (PS) has seemingly not recovered from the Macron win at the French Presidential election. The Dutch Labour Party (PvDA) is also still licking its wounds from a humiliating defeat in 2017.
Read more: The year of living ineffectually: 2017 proves shaky for the centre-left
The picture is not consistently bleak, though. In Portugal, Antonio Costa's left coalition (an unwieldy group of left parties dubbed "the contraption") has proved remarkably resilient. Moreover, the Swedish Social Democratic Party is governing in coalition in that traditional bastion of social democracy. The recent win of Mette Frederiksen in Denmark has also given optimism for the centre-left parties. And of course, the impact and leadership of Jacinda Ardern in New Zealand was another positive result for the left.
Yet, there are wider structural problems for the centre-left, which mean that even these more recent positive electoral results may conceal ongoing identity issues. If we return to Australia, we can see what is underpinning these results – the structural decline of the vote for the centre left.
As the table below shows, the primary vote of the ALP has consistently fallen, and certainly stagnated over the past three elections. Indeed, the ALP has not won an election outright for over a decade.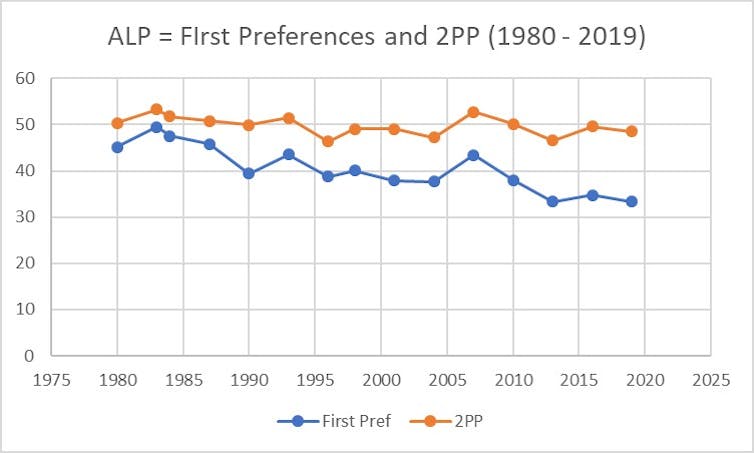 Authors: Rob Manwaring, Senior Lecturer, Politics and Public Policy, Flinders University
Read more http://theconversation.com/centre-left-politics-dead-in-crisis-or-in-transition-119159