Written by

Julienne van Loon, Vice Chancellor's Principal Research Fellow, School of Media & Communication, RMIT University
Why do we tell stories, and how are they crafted? In this series, we unpick the work of the writer on both page and screen.
The omniscient narrator – an all-knowing, third-person voice – is making a return to contemporary fiction. Indigenous Australian author Kim Scott, in choosing this technique for his latest award-winning novel, Taboo, is not alone: we can also find it in recent fiction by Zadie Smith (White Teeth; On Beauty) and Richard Powers (The Overstory).
Readers might be surprised by this trend. Isn't the penchant to narrate in this way – like a kind of god – long dead? Curiously, the answer is no.
Along with several of his peers, Kim Scott is playing with a mode of omniscience deeply informed by the legacy of postmodernism in literature, a movement characterised by, among other things, a critique of the unreliable narrator. As with all of Kim Scott's fiction, it matters deeply who it is that is speaking.
Literary scholar Paul Dawson has argued that the reappearance of the omniscient narrator in recent fiction can be read as "a performance of narrative authority". He suggests one reason omniscience has returned is the anxiety many writers now feel about the role and place of storytelling in contemporary culture, where freely available digital media stories, peppered with fake news, produce and reproduce endlessly. As a result, there is very little about in the way of the consistently reliable narrative authority.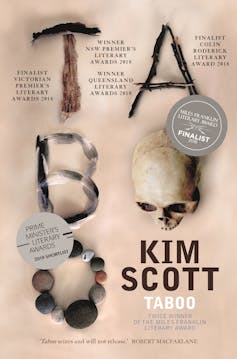 Authors: Julienne van Loon, Vice Chancellor's Principal Research Fellow, School of Media & Communication, RMIT University
Read more http://theconversation.com/inside-the-story-the-all-knowing-narrator-in-kim-scotts-taboo-117587