Written by

Michelle Grattan, Professorial Fellow, University of Canberra
The election contest continues to focus on tax and health, with the government setting out the tax benefit people in particular occupations would get in the long term under its plan, and Labor announcing funding for pathology from its cancer package.
The government says teachers, nurses, police officers and tradesmen would pay significantly more income tax under Labor.
According to its figures a NSW nurse manager earning $199,029 in 2024-25 would pay $11,740 less tax than under Labor; a Queensland public school principal on $183,201 would pay $9049 less tax than under Labor, and a Victorian public school classroom teacher on $115,745 would be $3699 better off.
Labor has rejected the later stages of the government's income tax plan, saying it is not fiscally responsible to produce details at this stage. It however has left the way open for a Shorten government to give tax cuts - beyond those promised to be delivered within weeks of the election – when budget circumstances allow.
Treasurer Josh Frydenberg said: "Anyone earning more than $40,000 will better off under our plan. It means school teachers, nurses, bus drivers and emergency service workers right across the country will have more money in their pocket.
"This is more money to spend as they see fit. Our plan provides greater reward for effort while ensuring top earners continue to pay their fair share."
"Our tax system will maintain its progressive nature under our reforms, with the top 5% of the taxpayers paying around one third of all income tax."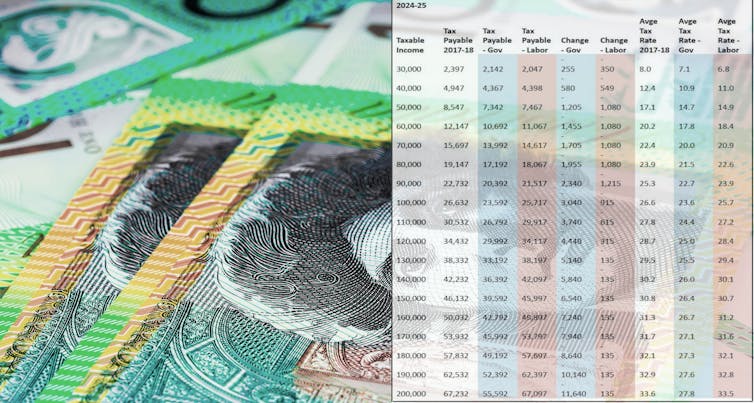 Authors: Michelle Grattan, Professorial Fellow, University of Canberra
Read more http://theconversation.com/election-stays-on-tax-and-health-battlegrounds-115500