Written by

Judith Brett, Emeritus Professor of Politics, La Trobe University
This is an edited extract from Judith Brett's new book, From secret ballet to democracy sausage: how Australia got compulsory voting), Text Publishing, 2019.
Not many countries compel their citizens to vote, but Australia is one. Voting is compulsory in 19 of the world's 166 electoral democracies and only nine strictly enforce it. None of Europe's most influential democracies has it, and none of the countries in the mainstream of Australia's political development: not the United Kingdom, the United States, Canada, New Zealand or Ireland.
People from our sister democracies are often astonished that Australians are compelled to turn up to vote: it seems an affront to freedom. We in reply are appalled at their low turnouts and the election of leaders and governments by a minority of voters.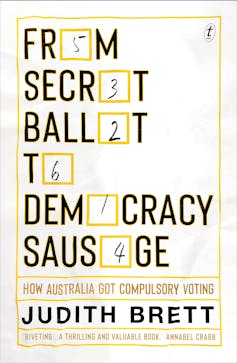 Authors: Judith Brett, Emeritus Professor of Politics, La Trobe University
Read more http://theconversation.com/book-extract-from-secret-ballot-to-democracy-sausage-112695