Written by

Paul Strangio, Associate Professor of Politics, Monash University
The commanding return to office of the Andrews government emphatically reaffirms that Labor is the natural ruling party in Victoria. By the time the state's next election is due in November 2022, Labor will have presided over Spring Street for three-quarters of the previous four decades.
That ascendancy is replicated in federal election results: the ALP has won the two-party preferred vote in Victoria on 12 of the past 14 occasions. The flipside is that Victoria has become foreign ground for the Liberal Party. It seems almost unimaginable that this was once the state dubbed the "jewel in the Liberal crown".
If Labor's re-election consolidates an established trend in Victorian politics, the scale of the victory (it has invited comparisons with the ALP's Steve "Bracks-slide" of 2002) and the terms on which it has been won are remarkable.
Read more: Victoria election: the scandals, sloganeering and key issues to watch
From the moment he won office in 2014, Daniel Andrews styled himself as an assertive and activist premier. This has been exemplified by an ambitious infrastructure agenda, but also a willingness to barge his way through controversies unapologetically.
Andrews' buttoned-up Clark Kent like exterior has also belied an adventurism on social reform highlighted by Victoria becoming the first Australian state to legalise voluntary assisted dying and other initiatives such as embarking on negotiating a treaty with the local Indigenous community.
Lacking the every-man touch of Bracks, Andrews has never seemed especially fussed about courting popularity and has mostly eschewed media contrivances to leaven his image. Neither has he sought to disguise that he is unambiguously a creature of the Labor Party, nor camouflaged his government's closeness to the trade union movement.
Only last month, Andrews boldly marched at the head of an ACTU-organised rally in support of strengthened industrial rights and improved conditions for workers. On Saturday night, he made a conspicuous point of thanking the labour movement in his victory speech. All of this has inflamed his detractors (not least News Limited's Herald Sun), yet Andrews has remained defiantly unmoved.
Arguably, there is a risk in this audacity that might grow greater with Andrews emboldened by winning a second term. And there remains a danger that, despite Labor's expansive infrastructure program, his government will be overwhelmed by Melbourne's exponential growth and the enormous strains this is placing on services.
For now, though, one cannot deny Andrews' achievement. Pledged to serve another four years, he is on track to become the state's second longest-serving Labor premier and he has bequeathed his party a victory so sweeping it should guarantee two further terms.
For the Liberal Party, this is an abject result. It rubs salt into the wounds of the Coalition's first-term defeat in 2014. Twice in Labor's era of dominance of the past four decades, the Liberals have squandered office.
A combination of policy inertia and ill-discipline sowed the seeds of the premature fall of the Ted Baillieu-Denis Napthine government in 2014, while in 1999 Jeff Kennett's tenure was cut short by hubris and insensitivity to rural and regional Victoria that paved the way for an 11-year Labor reign under Bracks and John Brumby.
For the second state election in succession, the Victorian Liberals have also been handicapped by the actions of their federal counterparts. When Victorians voted in 2014, the politically poisonous first budget of Tony Abbott's government was still exercising their minds, while on this occasion there was the backdrop of the upheaval surrounding Malcolm Turnbull's deposal as prime minister.
But this result shows the Liberals' difficulties in Victoria run far deeper to matters of identity and philosophy (and organisation). Though Matthew Guy gestured towards broadening his election pitch through decentralisation policies, everything in the Liberal campaign was ultimately dwarfed by a muscular, conservative law and order agenda.
It was both narrow and discordant in a community of progressive sensibility, and one that is defined by complexity and diversity. It is a community where, for example, there are electorates in which greater than 50% of people were born in non-English speaking countries, electorates where more than 30% of the population are of Muslim faith, and electorates where nearly 50% have no religion. The contemporary Liberal Party appears bereft of a vocabulary to speak to this pluralism.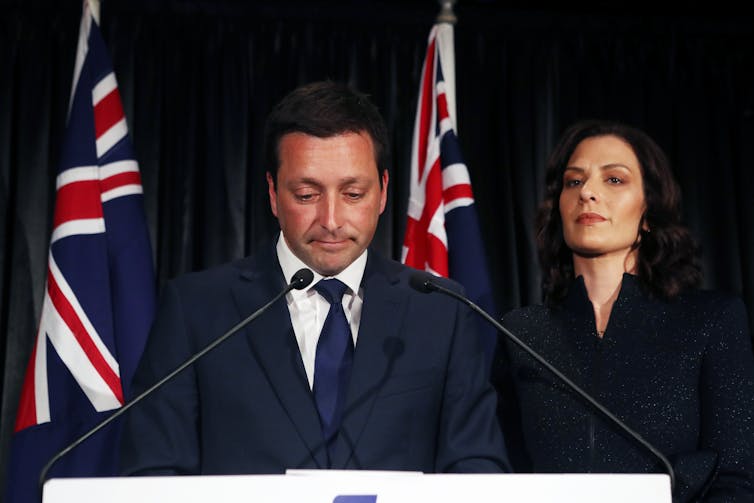 AAP/David Crosling
This problem of being out of step with the nation's second largest and fastest growing state besets the Liberal Party federally as well. Yet Scott Morrison and many of his colleagues have shown scant evidence of recognising, let alone addressing, this dilemma.
Instead, they seem intent on appealing to a Queensland-focused "base". The cost of this hewing to the right and what it potentially augurs for next year's federal election in Victoria is now plain to see.
In a more immediate sense, there is a serious chance the Morrison government will be further destabilised by the recriminations flowing from this result. It is likely to deepen the divide in Liberal ranks between those who appear hell-bent on remaking the party in their own conservative self-image regardless of electoral consequences and those who understand that this is folly.
Lastly, what of the Greens? Since 2002, the Greens have stalked Labor in its once traditional heartland in Melbourne's inner city. Buoyed by a heady triumph in the Northcote by-election 12 months ago, the Greens looked forward to this contest convinced they were on an irresistible forward march.
Read more: The Greens set to be tested on a number of fronts in the Victorian election
That optimism was dented by defeat in the federal byelection in Batman in March. Now, after an unhappy campaign during which the party became mired in controversy over its culture towards women and struggled for traction against a progressive-credentialed government, the Greens have lost ground. Some experienced observers are speculating that we have witnessed "peak Green".
That is probably premature. Yet, for Labor, the sullying of their tormentor's image and disruption of their momentum is icing on its glorious election victory cake.
Authors: Paul Strangio, Associate Professor of Politics, Monash University
Read more http://theconversation.com/victorian-labors-thumping-win-reveals-how-out-of-step-with-voters-liberals-have-become-105574