Written by

Mandy Stefanakis, Sessional lecturer in music education, Deakin University
Review: Rock Bang, Malthouse, Melbourne.
In this, their 40th year performing, Circus Oz have combined their many talents with German musical duo Astrid and Otto (aka Australian comedians Clare Bartholomew and Daniel Tobias from Die Roten Punkte). Their show, Rock Bang, fuses music, theatre, cabaret, comedy and acrobatics.
In our world of hyper-sensory experience, there is almost an expectation that we are able to juggle such diverse forms. But the most rewarding aspect of this show, under the artistic direction of Rob Tannion, is when a particular artform is given the space to shine.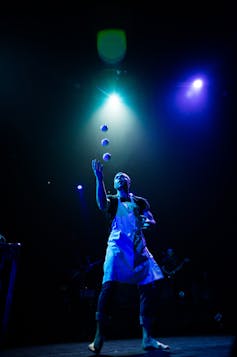 Mark Turner
It is built around the narrative of Astrid and Otto's (fictional) lives: their escape from dire childhood circumstances in rural Germany to Berlin, just as the wall is coming down; their absorption into the city's music and cabaret scene, and the formation of their band Die Roten Punkte (The Red Dots), which features the tiniest of drum kits and other errant sound-making objects. Astrid and Otto eventually "wake up in Wagga Wagga" (as you do)!
One of the standout scenes in the telling of this narrative is the use of the audience as forest, where Astrid and Otto seek reassurance and shelter after fleeing home. It's a simple, but effective metaphor.
Circus Oz's acrobatic skills provide many highlights. The juggling of pizza dough balls, in a scene set in a Berlin pizza parlour begins with one ensemble member dressed as a baker. Gradually, all are drawn in. The use of sight gags - such as flying pizza trays and dropped pizza balls being picked up, dusted off and placed back on the tray - and the coordination of it all, is highly skillful and provides great comic theatre.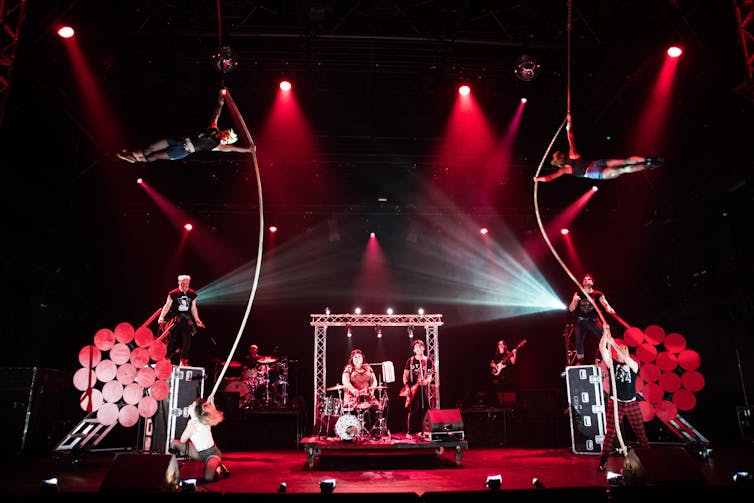 Authors: Mandy Stefanakis, Sessional lecturer in music education, Deakin University
Read more http://theconversation.com/rock-bang-is-a-highly-charged-fusion-of-music-theatre-and-circus-107094