Written by

Zareh Ghazarian, Lecturer, School of Social Sciences, Monash University
Victorians will decide who governs the state for the next four years on Saturday. Premier Daniel Andrews and Opposition Leader Matthew Guy, along with all other candidates, can see the finish line as the parties make last-minute appeals for support.
The election campaign has been far from scintillating. The leaders' debate, which will be held in the ultra-marginal seat of Frankston on Wednesday, may be a highlight in a relatively well-managed campaign by both major parties.
This election is unique in that up to 50% of voters are expected to have voted before election day. This means the parties are appealing to a smaller number of voters in the final week of the campaign than in previous elections.
Early exits dogging the Liberals, Greens
While the major parties had avoided embarrassing gaffes in the early days of the campaign, there have been a few missteps of late.
One Liberal candidate quit over a controversial online video that featured the hashtag #MuslimBan, while another withdrew following concerns about her fundraising for an unregistered charity.
The Greens have also been mired in controversy. One candidate withdrew over social media posts that boasted about shoplifting, while another candidate has attracted criticism for rapping about date rape.
Public safety and other key issues
When it comes to the issues, government services – especially healthcare, education and public transport – as well as energy and public safety have been at the core of the policy debates.
Both parties have ostensibly built their campaigns around market research and the messages they believe will influence how citizens vote.
Read more: How Australia's NRA-inspired gun lobby is trying to chip away at gun control laws, state by state
Labor's slogan, "Delivering for all Victorians", seeks to maintain the party's perceived strengths in delivering services. In contrast, the Liberals' slogan, "Get Back in Control" is aimed at positioning the party as a more measured and effective manager of public finances and services.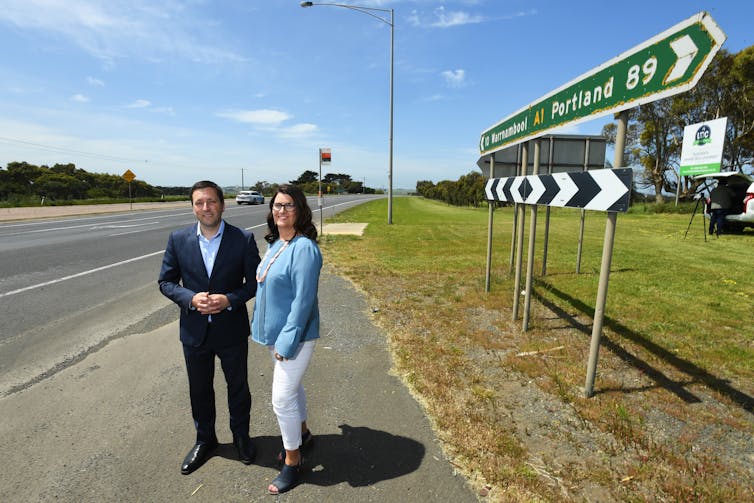 James Ross/AAP
One of the big issues that has dominated Victorian politics in recent years has been public safety. News coverage of the so-called "African gang problem", and the tragic terror attack last week in the CBD, have provided the Liberals with what they see as an opportunity to position the party as a stronger manager of law and order in the state.
Read more: FactCheck: does Victoria have Australia's highest rate of crime?
Guy has campaigned strongly on this issue with the view that it will sway voters in marginal seats concerned about safety.
Public transport has also been a prominent issue in the campaign, with the government touting its removal of railway crossings, as well as a proposed new rail system. The Coalition has also promised to extend rail lines in growing suburbs on Melbourne's fringe, while also removing railway crossings.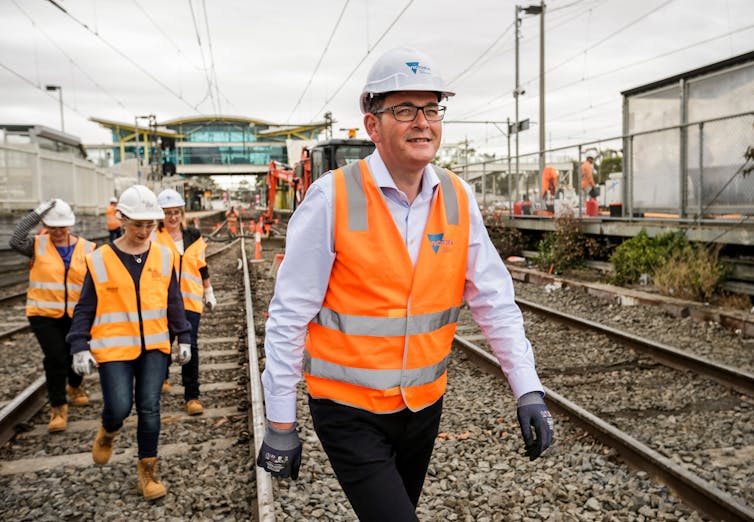 Valeriu Campan/AAP
In terms of education, Labor has promised to build new schools and upgrade existing ones. The Liberals have also indicated they would seek to "de-clutter" the state's curriculum and provide a "back-to-basics" schools policy.
'Red shirts' and 'lobster with a mobster'
Aside from the policy debates, the parties will also be judged on their performances since the last election in 2014.
Both major parties have avoided the instability that has been the hallmark of their federal counterparts over the last decade. Both Andrews and Guy have remained relatively safe in their roles, though they did suffer some setbacks.
Andrews had to go into damage control following the dubious use of taxpayer funds by some Labor MPs, while also being side-tracked by the so-called "red shirts" affair, in which taxpayer funds were used to pay campaign staff (who wore red shirts).
The government also lost ministers over allegations of misconduct made by staff and use of a ministerial car to ferry pet dogs. Cracks also appeared in the government when Emergency Services Minister Jane Garrett resigned from Cabinet over the pay and conditions for firefighters.
The Liberal Party has not been without its share of drama. Guy was embroiled in the so-called "lobster with a mobster" affair – a dinner at a lobster restaurant with an alleged mafia boss – and his past dealings as planning minister also attracted scrutiny after being released by the government. This did Labor no favours, however, as the premier was forced to apologise to those whose private details were made public as part of the document release.
Read more: State governments are vital for Australian democracy: here's why
While Labor has been enjoying the benefits of incumbency, the Liberal Party has, at times, appeared to be distracted by an identity crisis. Like the federal party, the Victorian Liberals have grappled with the question of who they are seeking to represent. Whether it is a pragmatic party, or a more ideologically driven socially conservative party, appears to be at the root of such debates.
Adding further to the frustrations to the Liberal leadership has been the well-publicised dispute with the Cormack Foundation over control of campaign funds, as well as the imprisonment of its former state director for stealing A$1.5 million from the party.
Despite all the political dramas, the election itself could be fairly straightforward. With opinion polls showing the government leading on the all-important two-party preferred measure, it looks highly likely Labor will be returned in Victoria.
Authors: Zareh Ghazarian, Lecturer, School of Social Sciences, Monash University
Read more http://theconversation.com/victoria-election-the-scandals-sloganeering-and-key-issues-to-watch-105495