Written by

Jessica Richards, Lecturer Sport Business Management, Western Sydney University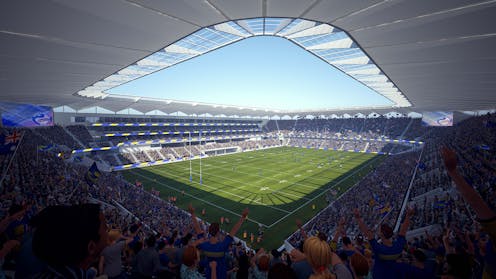 Reading through the hundreds of community submissions about the redevelopment of the Sydney Football Stadium, it is clear there is strong opposition to the new venue. It has been called a "drain on the public purse", with the existing stadium considered to be still "in fine working order". Public outcry also saw the NSW government back down from its plans to spend A$2.5 billion redeveloping three stadiums. They will now spend only A$1.8 billion.
Not helping the cause is the A$38 million spent on a walkway to the existing Sydney Football Stadium that only 5% of fans currently use. In the UK, £323m was spent to convert the London 2012 Olympic Stadium for the use of West Ham United Football Club. Developments like these create a sense of wasteful spending when it comes to stadium development, which sits uncomfortably with the tax-paying and voting public.
At the same time, the allocation of resources and the adequacy of local sporting venues for high participation community sport and recreation remains contested and highly variable. In such situations, it is typically the marginalised members of society that are forced out by governments to make way for largely commercial sporting developments.
Read more: Pushing casual sport to the margins threatens cities' social cohesion
It is timely to ask whether public funding would be better allocated to the creation and improvement of publicly available spaces rather than the continued development of sporting arenas that are infrequently used by a minority of the population.
Can sport stadiums bridge the great diversity divide?
A recent forum hosted by Western Sydney University brought together a panel of experts to discuss the value of the new Western Sydney Stadium and its benefit to the people of Parramatta. The panel included representatives from Populous (the lead architects), Venues NSW (stadium operators), Netball NSW, Western Sydney Wanderers and Football Supporters Australia.
Parramatta is demographically diverse. The most common ancestries of residents are Indian (26.9%) and Chinese (16.3%). With nearly 80% of residents in Parramatta having both parents born overseas, the issue of the benefits of the new stadium, particularly for those who do not traditionally follow rugby league or soccer was a key question for the forum.
The most popular organised sports for children aged five to 14 years born overseas is swimming. The demolition of Parramatta Swimming Centre to make way for the new Western Sydney Stadium was, therefore, contentious. As a community facility, the pool boasted 160,000 users per year, and averaged 1200 visits per day on days above 30 degrees Celsius. A replacement pool is not due to open until 2020.
At issue is whether the stadium is viewed as an accessible community asset. The panel and forum persuasively explored issues of how the stadium embodied the principles of inclusive and safe design, addressing the requirements of fans and clubs. What was less clear was the question of how governments and highly monetised sports reconciled stadium expenditure against the unmet resource demands of community sport.
The quality of stadium facilities for elite sports, including netball, that are not funded through media rights was also questioned. The requirements of elite women's sports are relatively invisible in stadium discussions. Somewhat ironically, this is often defended on commercial grounds, yet where the commercial basis of stadium funding is opaque and highly contested.
What's in it for non-sports fans?
Typically, stadiums focus on one or two sports, which in Australia may see the facility used for around 50 days per year. Yet they have the potential to transform urban environments and can incorporate community facilities.
Modern stadium design is placing greater emphasis on community development and engagement. Club-led developments in the UK have created affordable housing, and generated jobs and other economic benefits for the area. As examples, the construction of Emirates Stadium also included day nurseries and new community health facilities. Similarly, the redevelopment of White Hart Lane (also in London) will include a new community health centre and a 180-bedroom hotel with a dedicated training program for the hospitality industry.
Read more: Sydney's stadiums debate shows sport might not be the political winner it once was
SunTrust Park in Atlanta USA boasts the tag line "Dine.Play.Shop.Stay" and aims to be an entertainment precinct catering for a wider section of the general public. The precinct is activated beyond their average of 81 game days per year. It incorporates 18 dining options, 14 retail venues, a 264 room hotel, co-shared work spaces and hosts a variety of events.
A blueprint for the future
We are calling on those who determine to publicly fund stadiums to ensure that design briefs include spaces and facilities that are socially inclusive. There should be benefits for more than just (major) sports fans and social elites. When public money funds new constructions (either fully or partially), it is entirely reasonable to expect that there would be advantages for all members of the local community.
Government investment in stadiums should work to foster grassroots sports, be less gendered and offer benefits to non-traditional sports fans in the form of recreational spaces. Creating a sustainable sporting precinct around a new stadium provides vibrant hubs of activity which better utilise spaces for wider sections of the community.
Authors: Jessica Richards, Lecturer Sport Business Management, Western Sydney University
Read more http://theconversation.com/note-to-governments-sports-stadiums-should-benefit-everyone-not-just-fans-105956