Written by

Tanya Dalziell, Associate Professor, English and Literary Studies, University of Western Australia
This week sees the Australian release of Leonard Cohen's posthumous volume The Flame: Poems and Selections from the Notebooks. Among the song lyrics and notebook extracts that comprise the book are selections of new poetry, much of it touching on ageing and mortality, but not without characteristic humour.
In one, the poet wryly recounts: "In the elevator / Of the Manchester Malmaison Hotel / I have to put on reading glasses / To find the button for my floor".
This elevator experience is very different from that which Cohen had in the late 1960s at the Chelsea Hotel in New York, where he encountered Janis Joplin. As legend has it, by the time the hotel's slow-moving lift reached the fourth floor, Cohen and Joplin were destined to spend the night together.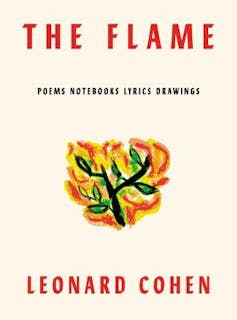 Authors: Tanya Dalziell, Associate Professor, English and Literary Studies, University of Western Australia
Read more http://theconversation.com/friday-essay-a-fresh-perspective-on-leonard-cohen-and-the-island-that-inspired-him-105392