Written by

Tooran Alizadeh, Senior Lecturer, Director of Urban Design, University of Sydney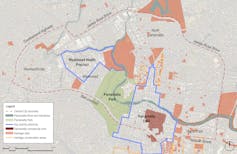 Image: Jamie van Geldermalsen, Mile Ilija Barbaric, Rao Umair Afzaal, Kun Fan

,

Author provided
In my article yesterday showing how far Greater Parramatta is from hosting one of three metropolitan CBDs proposed by the Greater Sydney Commission, the verdict was clear:
The Sydney metropolis has a very long and bumpy way to go before we can re-imagine it with more than one CBD. Visionary and bold decision-making, supported by significant investment, is required for the Central City to transition to a metropolitan centre.
Read more: Re-imagining Sydney with 3 CBDs: how far off is a Parramatta CBD?
Today, I introduce a bold proposal to build a Central CBD for metropolitan Sydney, as a real complement to the City of Sydney CBD to the east.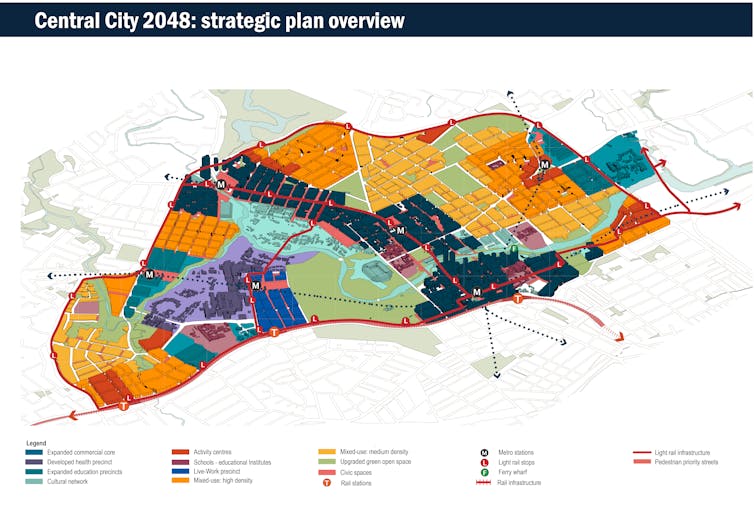 Image: Jamie van Geldermalsen, Mile Ilija Barbaric, Rao Umair Afzaal, Kun Fan

,

Author provided
Central City 2048 is a 30-year strategic plan, which builds on the Greater Sydney Commission's Greater Sydney Region Plan. Central City 2048 presents a vision for a dynamic, connected and sustainable CBD at the heart of the Greater Sydney metropolitan region.
Read more: The future of Sydney: a tale of three cities?
Employment, transport and housing targets to be achieved by Central City 2048 are listed in Table 1.

Authors: Tooran Alizadeh, Senior Lecturer, Director of Urban Design, University of Sydney
Read more http://theconversation.com/reimagining-sydney-this-is-what-needs-to-be-done-to-make-a-central-city-cbd-work-102198