Written by

Ted Snell, Professor, Chief Cultural Officer, Cultural Precinct, University of Western Australia
In our Here's looking at series, experts explain prominent works of art.
The frontispiece to Brett Whiteley's London Zoo series of prints is two paired images of a chimpanzee and Whiteley himself, their eyes locked in communion.
Two arrows are printed on top of each face. A black one on Whiteley's forehead points at the chimp, with the note "printed first" written above. A white arrow on the chimp's face, pointing at Whiteley, reads "printed second". Whiteley's expression could be interpreted as distrustful and wary. The monkey seems genuinely concerned and compassionate.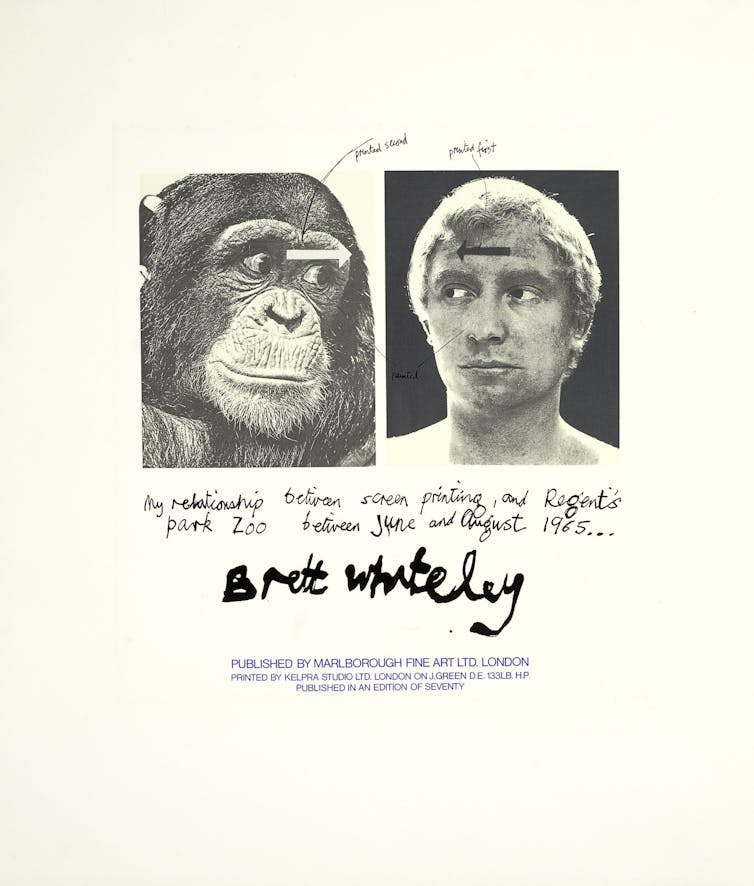 Brett Whiteley. Title page: Regent's Park Zoo series 1965 colour screenprint 98.5 x 68.0 cm Art Gallery of New South Wales, Sydney Purchased 1965 (DA11.1966) © Wendy Whiteley
The artist is describing how the print was made — which elements were silkscreened in what order — but he is also branding himself and the chimp with black and white arrows respectively. They can be read as symbolising evil and good, though likely he intended this as a statement of dualism rather than division.
Whiteley explains in a text beneath these images that the print is, "my relationship between screen printing and Regents Park Zoo". But it also, clearly, about the relationship between himself and the animals he was recording in pen and charcoal drawings, some of which he later transcribed into screenprints.
The Zoo series was first shown in the company of Whiteley's analysis of the psychopathic serial killer John Christie at the Marlborough New London Gallery in 1965. The Christie pictures detailed the eight murders the infamous constable committed in his home at Rillington Place, and the juxtaposition of the evil human with the benign animals was, as Sandra McGrath points out
… a deliberate foil, contradiction, and antidote … Whiteley's animal kingdom represented the natural forces of good, while Christie's world was one of depraved evil.
Good and evil and the internal tension in human beings to find equilibrium between those polarities was at the core of much of Whiteley's work and life. The counterpoint to chaos and brutality is found in the inherent grace and honesty of animals; the elegant swaying Giraffe juxtaposed with images of Christie's depravity, the birds with the madness of The American Dream and the Kangaroos and Lyrebird with the violence of Alchemy.
Throughout his life, Whiteley continued to make images of apes and monkeys, from those casually swinging gibbons in Regents Park Zoo to the later pictures of baboons, he found much in their character and physiognomy to identify with.
The pain and anguish of the Sacred baboon, locked in its cage, tagged as from far distant Africa, its delicately drawn fingers interlocked into the mesh of its prison, seems frighteningly human.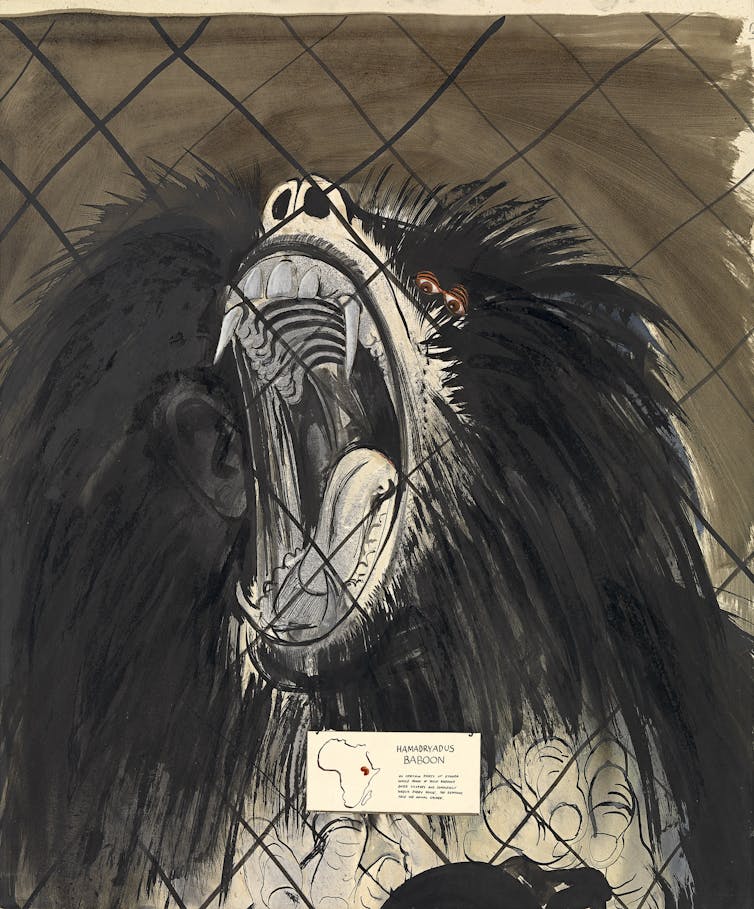 Brett Whiteley. Sacred baboon 1975 brush and ink, wood stain, watercolour, gouache and cut printed colour illustration on cardboard 81.6 x 67.6 cm National Gallery of Victoria, Melbourne Purchased, 1978 (A23-1978) © Wendy Whiteley
Drawn with the economy and precision that was the artist's hallmark, it's hard not to imagine the pitch of its scream and empathise with the intensity of its fury at being displaced and restrained. At many times in his life Whiteley, as we know from his eloquent biographers, had similar feelings of displacement and rage. Like this poor animal, a sacred creature, he had been reduced to screaming in desperation to an indifferent audience.
The power of Whiteley's drawing, exquisitely evident in works like the Sacred Baboon, is his ability to articulate with such elegance the noble qualities he identified in nature and to be able to employ them as part of a grand narrative about the human condition.
Read more: Brett Whiteley's drawings reveal the artist as a master draughtsman
Of course, he didn't always manage it. In his notes for the catalogue of an exhibition at Robin Gibson Gallery in 1985 he explained; "Some drawings are made in order for me to see something, some are made in order for me to show off." There are plenty of show-off drawings, but the best of his works push at the extremes of his knowledge and his abilities.
"The purpose of drawing is to make freshness permanent," he went on. And in the Sacred baboon, that moment of intense connection with this suffering creature is fixed in our psyche.
For Whiteley, this must have been a very powerful experience. He returned to the image of this anguished beast in his famous Archibald Prize-winning portrait Art, life and the other thing painted three years later. It is a self-portrait in three parts with a serene, photographic portrait, a large painting of the artist holding William Dobell's 1943 Archibald winning portrait and a painting of the Sacred Baboon, with hands manacled, impaled and bleeding.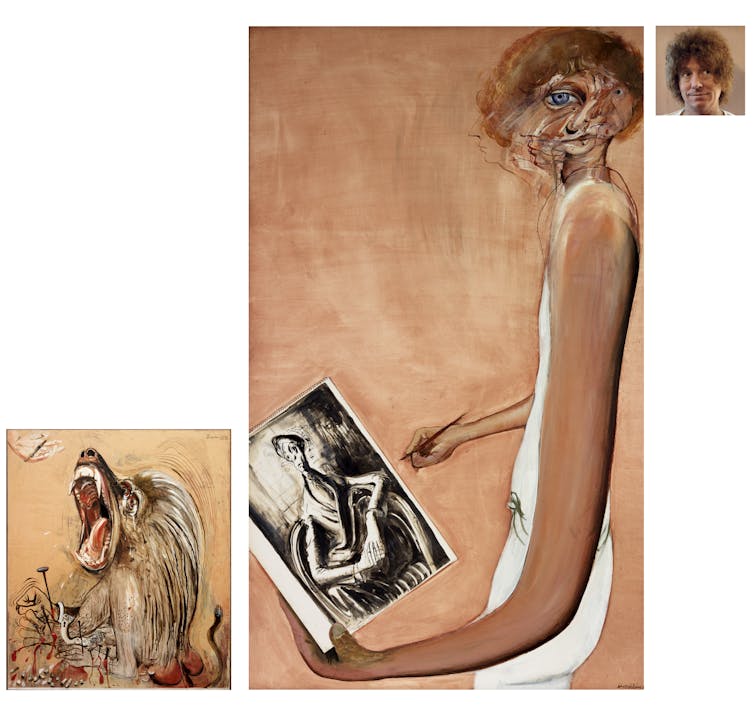 © Wendy Whiteley. Photo: AGNSW, Jenni Carter
The artist's identification with the baboon is emphasised in his gruesome transplant of his own hands to replace the animals.
Trapped in the bottom corner of the painting, a ghostly hand enters from the top left to deliver a hypodermic syringe while the animal wails in protest, just as it did in its cage at the Regent Park Zoo.
This time the prison is Whiteley's addiction, but they share the same agonised cry for help.
Baldessin/Whiteley: Parallel Visions 31 August 2018 – 28 January 2019, The Ian Potter Centre: NGV
Authors: Ted Snell, Professor, Chief Cultural Officer, Cultural Precinct, University of Western Australia
Read more http://theconversation.com/an-ape-in-anguish-brett-whiteleys-sacred-baboon-101664