Written by

Liz Conor, ARC Future Fellow, La Trobe University
In June 1849, a military formation charged through the streets of Paris. Mounted guns rumbled past, horses shied and pawed the ground – and, from a balcony above, two Australian Aboriginal boys offered to enter the fray and step between the sparring parties to effect a ceasefire.
The boys were Yued Noongar: Dirimera (13 years old) and Conaci (nine), from the Victoria Plains of Western Australia. They were journeying to Naples with the Benedictine monk Rosendo Salvado, who in 1847 had founded the New Norcia mission 132km north of Perth on their country.
The two boys were among five Yued Nyoongar children (including one girl, Ballomara, aged nine) taken to Europe from the mission between 1848 and 1851 as part of an attempt to "civilise" them as Benedictine and Ursuline novices. Their presentation to the courts of Europe was designed to showcase the successful evangelising of "Native" children, in order to raise funds for the struggling mission.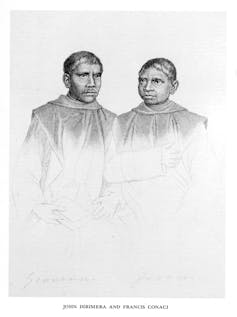 Authors: Liz Conor, ARC Future Fellow, La Trobe University
Read more http://theconversation.com/you-dont-belong-to-my-country-either-how-two-noongar-boys-spoke-up-a-world-away-from-home-100458