Written by

Gregory Moore, Doctor of Botany, University of Melbourne
Welcome to Beating Around the Bush, a series that profiles native plants: part gardening column, part dispatches from country, entirely Australian. Read more about the series here or get in touch to pitch a plant at batb@theconversation.edu.au.
The Indigenous people of Victoria and Tasmania have long known of the giant trees to be found in some of the wetter and cooler forests of these parts of Australia. The first Europeans were amazed to see trees of such stature growing in what they regarded as a dry and hostile environment.
The trees are straight and tall – almost incredibly tall – and many have massive girths. They are in every sense living giants.
Today we know the species by various common names, such as mountain ash, swamp gum, stringy gum or even giant gum, in different parts of Australia. Perhaps this is a situation where the proper botanical name, which many people find difficult and confusing, says it all. This monarch of eucalypts is officially called Eucalyptus regnans; regnans being Latin for ruling or reigning. Its massive stature gave rise to the name.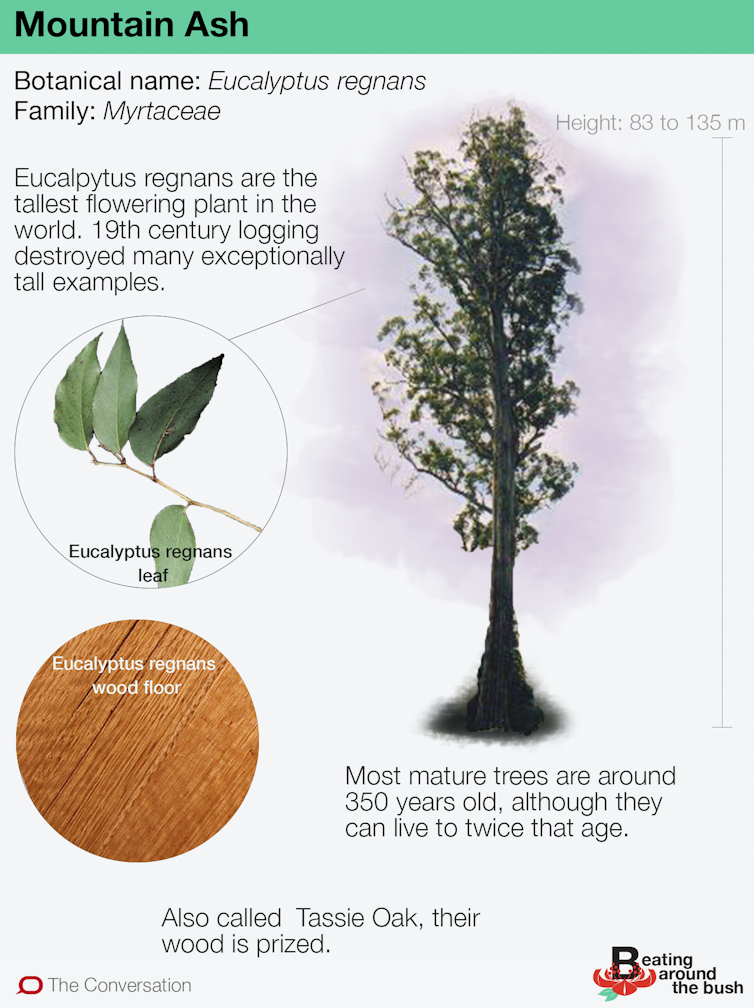 Authors: Gregory Moore, Doctor of Botany, University of Melbourne
Read more http://theconversation.com/mountain-ash-has-a-regal-presence-the-tallest-flowering-plant-in-the-world-96021